US Drops Tariff for UK Whiskey Makers
Image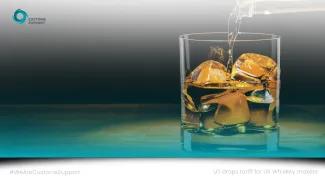 UK whiskey makers are expected to increase exports to the US, following the removal of a 25% duty rate that was imposed by President Donald Trump in 2019.
The UK has also removed their retaliatory tax for whiskey and bourbon products that originate in the US, giving companies on both sides of the Atlantic a reason to celebrate. Although the tax relief began on 1st June, 2022, what is the expected result for the whiskey industry? Find out in this article.
How do UK whiskey makers that export to the US benefit?
In the UK, the whiskey industry is growing with the exports increasing by nearly 20% in 2021. Of the £4.6 billion-worth of UK whiskey exported, over £820 million of it was to the US. This makes whiskey the biggest food and drink export in the UK, both to the United States and internationally.
Furthermore, an article by Forbes found that exports of whiskey to the US have dropped by 30% since 2019. The Scotch Whiskey Association, the trade body that represents the industry, estimated this to be approximately £200 million in lost business.
The rebound from the removal of the 25% import duty, along with the already growing number of exports for the industry, means that the UK-US whiskey trade is expected to increase over the coming year. Particularly as the tax removal comes in the lead up to the Christmas trading period.
How do UK whiskey makers that export to the US benefit?
The bourbon market in the UK has grown in the UK, following investment from US companies in Scottish distilleries. With the removal of the 25% UK import duty on US whiskey and bourbon products, US companies can reduce their costs and make the UK whiskey market viable again.
One such company is Never Say Die, who have celebrated the removal of taxes by launching a bourbon that is brewed in Kentucky, aged for six weeks on the ocean, and then matured in English barrels for a unique blend.
Another is the US whiskey company Brown-Forman, which owns three of Scotland's top distilleries: GlenDronach, Benriach and Glenglassaugh. With the US import taxes removed, they are planning to invest into their Scottish sites so that they can export more whiskey from the UK to the US.
Will your business now be open to the US?
The opportunity that the reliefs present to companies trading whiskey between the UK and the US is substantial. If you are now able to compete in the industry and need a customs broker to help streamline your border processes, please contact one of our experts today for assistance.