United Kingdom Delays Implementation of Border Controls. Again.
Image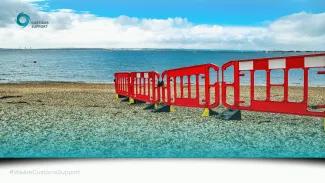 The United Kingdom's Minister of State, David Frost, announced that the United Kingdom is delaying implementing certain border controls. This is not the first time dates of implementation have been pushed back.
Covid and Supply Chain Pressure
The main reasons given for delaying the implementation are the increasing pressure on supply chains worldwide. Covid forced many companies to revise and change their supply chains completely. The aftermath of airfreight coming to a full stop and complete ports coming to a standstill can still be felt. Transportation and freight prices have never been this high?
Breathing Space
Frost states that the British Government is on track to implement the border controls as planned in terms of systems, resources, and infrastructure. Since the agrifood sector is among the sectors hardest hit by the recent supply chain developments, the Government has decided to postpone implementing certain controls, mainly related to Sanitary and Phytosanitary goods. As the statement reads:
The requirement for pre-notification of agri-food imports will be introduced on 1 January 2022 as opposed to 1 October 2021.
The new requirements for Export Health Certificates, which were due to be introduced on 1 October 2021, will now be introduced on 1 July 2022.
Phytosanitary Certificates and physical checks on SPS goods at Border Control Posts, due to be introduced on 1 January 2022, will now be introduced on 1 July 2022.
The requirement for Safety and Security declarations on imports will be introduced as of 1 July 2022 as opposed to 1 January 2022.
Complete Customs Control per January 1st 2022
The plans to have complete customs control in place per January 1st 2022 have not changed.
If you have any questions or need support in preparing for these customs controls, please contact one of our specialists. They are happy to answer your questions and discuss how we can make sure your flow of goods continues uninterrupted.