Top 10 Best Read Articles about Customs
Image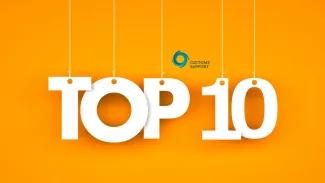 What a year it has been! And for a lot of people who are working on the outcome of the recent Brexit Agreement: what a year it still is! 
At Customs Support Brexit was one of the big themes this year. To be able to help our customers getting ready for Brexit we had to be ready ourselves first.  
Another big theme was our growth. We added several great companies to the Customer Support family again this year, complementing our organic growth of the past years. 
The third big theme, especially for me as Customs Support's Marketing Officer, was the big rebranding project we undertook this year. All companies in the Customs Support family were rebranded to Customs Support, recorded a new brand movie (at the bottom of this page) and we redesigned and launched our new website. I'm proud of the new platform where we share the latest news and insight on all things Custom with you every week. 
The 10 Best Read Articles
We published a lot of content on Brexit (and still do), which was top of mind for everybody involved in EU-UK trade. No wonder there are several Brexit related articles among our 10 best read: 
While EORI numbers are not only relevant for trade between the European Union and the United Kingdom we saw a lot of interest in two EORI related articles: What Is an EORI Number?: an article in which we explain what an EORI number is and why you need one.
There is a #Brexit deal. But what does it mean?: an article in which we write about what the new trade agreement means for business and what companies should do now.

Customs can be complex and we try to explain terminology, processes and procedures so importers and exporters have a clearer picture of what they need to take into account. We also follow the news and update our readers on changes in rules and regulations. Some of our best-read articles in this category:

The final category features two articles that are important for the future of Customs Support. One is about a project I am particularly proud of: the re-branding of more than 20 companies in the Customs Support family to the Customs Support brand.  

See You Again Next Year 
We hope to see more of you again on our blog next year. Rest assured that we will continue updating you on all things customs, making sure you are up to speed. We wish you a happy and prosperous 2021!