Shipping humanitarian aid to Türkiye and Syria
​​​​​​​How to navigate customs when helping victims of the recent earthquake
Image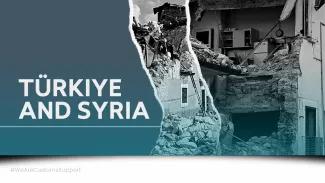 ​​​​​​​Since an earthquake hit Türkiye and Syria on 6th February, countries worldwide have sent aid to the survivors. But how do you prevent customs issues when providing help? Find out in this article.
Humanitarian shipments to Türkiye are exempt from permits
Vehicles that are carrying aid to Türkiye are not required to have journey authorisation, nor are drivers required to have a work visa.
Additionally, there is no need for you to have commercial documents accompanying your goods when they are for humanitarian import into Türkiye. However, there are still document criteria you need to follow to avoid delays and rejections at the border.
The documents you need for importing the goods into Türkiye
When moving your goods to Türkiye for humanitarian purposes, you need to have a movement document and a packing list for what's loaded on the vehicle.
Your packing list must show the following information:
Vehicle/flight/container ID

Shipper's address

Breakdown of the goods by name/description, quantity, and weight.

The potential recipients by district.
The recipients must have a connection with one of the following ministries, who must be mentioned to authorise movement of the goods through the border.
AFAD – Afet ve Acil Durum Durum Yönetimi Başkanlığı / Disaster and Emergency Management Presidency.

Ankara Sosyal Yardımlaşma ve Dayanışma Vakfı – Ankara Foundation of Social Assistance and Solidarity.

Şanlıurfa Sosyal Yardımlaşma ve Dayanışma Vakfı – Şanlıurfa Foundation of Social Assistance and Solidarity.

Kahramanmaraş Sosyal Yardımlaşma ve Dayanışma Vakfı – Kahramanmaraş Foundation of Social Assistance and Solidarity.

Adıyaman Sosyal Yardımlaşma ve Dayanışma Vakfı – Adıyaman Foundation of Social Assistance and Solidarity.

Adana Sosyal Yardımlaşma ve Dayanışma Vakfı – Adana Foundation of Social Assistance and Solidarity.

Hatay Sosyal Yardımlaşma ve Dayanışma Vakfı – Hatay Foundation of Social Assistance and Solidarity.

Diyarbakır Sosyal Yardımlaşma ve Dayanışma Vakfı – Diyarbakır Foundation of Social Assistance and Solidarity.
Other document considerations
Transiting through other countries
If your goods need to transit through other countries to get to Türkiye, then you need to ensure that your documentation allows your vehicle to move without delays.
Using a T2 document and declaring information in box 10: "transport of humanitarian goods and medicines, equipment and medical equipment for emergencies, especially natural disasters" is one of the ways to authenticate the purpose of your vehicles travel.
Specific requirements for country of supply
Depending on which country you are sending your goods from, you might need to have your movement and packing list pre-approved beforehand.
For example, humanitarian goods being sent from Germany must be approved by the Turkish Consulate Generals or a local charity such as the Red Crossor Caritas.
Best practices for shipping aid to Syria are unclear
Although Syria is also in desperate need of aid following the earthquake, this is a compound effect of years of war, political unrest, and other humanitarian concerns. Before the disaster, it is estimated that 90% were already in need of assistance.
Logistically, aid has been arriving in Syria through Türkiye, but this is more difficult now due to the damage to Turkish infrastructure. Syria's government have requested for aid to be sent through the city of Damascus, but there are objections to this route due to the risk that shipments will be hijacked to strengthen opposing factions instead of reaching those in need.
This makes the process of sending resources to Syria more difficult than it is to send them to Türkiye, although support through local NGOs is still possible. Until there is an agreement between Syria, Russia, and the UN council on the best route for support, we cannot confirm customs procedures for the same.
Update March:
The EU has clarified that sanctions imposed on Syria are targeted at the Assad regime and not the healthcare system. Under these sanctions, there are no restrictions on the export of food, medicines, or medical equipment to Syria.
Members of the European Union have also donated over €27.4 billion worth of humanitarian aid to Syria since 2011, and €5.5 million to those most in need following the earthquakes in early February.
To help the people of Syria even more, the EU have declared an amendment to sanctions to help humanitarian aid reach those who need it. This humanitarian amendment will apply for six months.
Under this amendment, humanitarian organisations do not need to seek permission from EU authorities before making transfers, or providing goods or services, for humanitarian purposes. This only applies to listed recipients, whether persons and entities.
Looking to send humanitarian goods to Türkiye or Syria?
Customs Support are here for you. Positioned in 12 countries around Europe and supported by a team of customs consultants, our declarants have the local knowledge required to get your humanitarian goods moved through borders as quickly as possible. Contact usfor more information.