Sernav is now Customs Support Italy
Image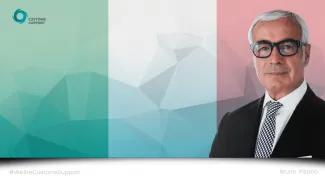 The view from the meeting room where I sat down to talk with Bruno Pisano, one of the founders of Sernav, is impressive. I felt like I was looking at a painting of an Italian landscape. 
With 42 years of experience, Bruno can be called a veteran in the Italian customs industry. He started his career in customs at 19 years of age as a delivery boy for a customs broker in the Port of La Spezia. After a few years of running across the port of La Specia with customs documents, he decided to get his customs broker license and successfully took the exam in 1987. 
A little over two years later, in 1989, Bruno started his customs brokerage firm with friends and colleagues Alessandro Biffignandi and Paolo Stanzione. With the Port of La Spezia as their home base, they began building the Sernav organisation that has recently been rebranded as Customs Support in Italy. 
From La Spezia to National Coverage 
Bruno, Alessandro, and Paolo had quite the journey together with many milestones. In 1995 they expanded their operations to Genova and two years later to Livorno. After diversifying services into transportation and warehousing, they further expanded and opened offices at the terminal of Rivalta Scrivia and the terminal of Arquata Scrivia. Next on the list were the major intermodal hubs, Melzo and Piotello in Milan. The last expansions were into Novara, Ravenna and Vado Ligure and cooperations with Trieste, Naples and Salerno ports. The company that is now Customs Support Italy has over 200 employees, including 20 licensed customs brokers, working from 13 offices and an extensive network of external partners that guarantee national coverage.  
The company handles more than 500.000 customs operations, of which more than 400.000 are related to maritime operations, which is more than ten per cent of Italy's total sea freight volume. Customs Support Italy takes care of all customs documentation, whether goods are transported via sea, air, road, or rail.  
Ever since 2010, Sernav has been AEO Certified. The certification underlines the focus Sernav has always had on excellent professionalism and great service quality. The third important pillar for Sernav has always been technological innovation. These three pillars and the AEO certification made Sernav a perfect match for Customs Support. With the addition of Sernav, Customs Support has further solidified its position as a leading digital customs broker in Europe. 
The Service of Customs Support Italy 
Next to supporting Italian clients with importing and exporting their products globally, Customs Support Italy's specialists also share their extensive knowledge and many years of experience through consulting services. Whether it is a challenge regarding origin, classification, customs value, or any other customs-related issue, Customs Support Italy's specialists are available to help you. They can also assist you with obtaining AEO Certification or permits required for importing or exporting specific products. 
A Project to Remember 
In our thirty-year history, we have enabled the import and export of many memorable projects. We were honoured to support the import and export of equipment for sporting events like World Championships for different sports, the Olympics, and the America's Cup, and we enabled the explorations of solitary sailor Giovanni Soldini around the world. We have also supported major international infrastructure projects, such as the construction of African motorways, a metro in the United Arab Emirates, the first Women's University in Saudia Arabia, and the installation of new quay cranes in our own Port of La Spezia. 
But there is one project that has stolen our hearts, and that is the support we provided for the "All in a Night" project. One of our most important clients was pivotal in this charity in support of the Italian Association for Cancer Research. Every year they arrange for azaleas to be sold in the central square of each town to support cancer research. Azaleas are very delicate and need to move through customs quickly to be distributed across Italy as soon as possible. They arrived for customs clearance at night, and many of our staff volunteered to come to the office to enable this operation and manage all customs formalities. It was great to work together on a project with such a positive impact.