Meet Our People: Yorick Peters
Regionaldirektor West (Germany)
Image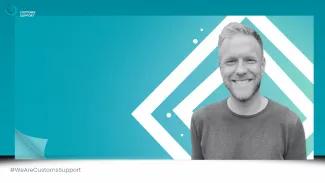 Welcome to our exclusive "Meet the People" series, where we take you behind the scenes to meet the dedicated individuals powering Customs Support. These passionate professionals play a pivotal role in ensuring the success of our mission: empowering your global trade.
In this edition, we are excited to present Yorick Peters, who has recently joined Customs Support Germany as the regionaldirektor for the West. Yorick has joined us from within the sector, bringing over 13 years of industry-specific expertise into the Customs Support team. 
Join us as he shares his insights and plans for the future. 
Who are you? 
I'm Yorick Peters, and I joined the team in May this year. I am coming from a competitor within the industry, although they are nowhere near the size of Customs Support. My role here is as the regional director for the West in Germany.  
What does a Regionaldirektor West do? 
My remit covers all of our operations in West Germany, including the office where I live in Emmerich am Rhein.  
My main target for the next six months is to standardise our procedures so that we are more efficient across separate locations. Currently, we have different acquisitions that are holding onto their ways of working. This is less efficient for us as the resources cannot be shared so easily, so I am working with stakeholders to improve this and align our people as soon as possible. 
What does your typical working day look like at the moment? 
The first thing I do is check in with my team leaders to make sure that we are running well operationally. They're good at what they do and don't necessarily need me to fix any issues, but it is good to know how things are and note anything that can be done to make things work better 
As well as working on the operations and our book of procedures, I am also involved in sales at the moment. We get leads coming in from the website and customers who are looking to expand what they do with us, so it's important for us to give these enquiries the attention they need. 
Otherwise, I am still meeting people in the group and learning the strengths that our other countries have. 
You're 33 years old. Tell us about your career before Customs Support.
I've always been in the customs business. I started with a traineeship at my previous company just over 13 years ago. After that, I did my bachelor's and my master's, which was in Sales Management. 
Alongside my education, I have worked across different departments to get a broad knowledge of operations, sales, and customs. I've completed import and export declarations, provided customs consultancy, overseen large accounts, and managed teams. 
For the last three years, I was responsible for the whole organisation in Germany. This was a little over 100 people working in six offices. 
What are you looking forward to with your new role here? 
For me, it's very cool to have something new to aspire to as a whole organisation. The larger team is learning every day, checking a new process or product, and seeing what works.  
I think about the experiences I've had in the past, some of the decisions I've made and the potential advantages I had in those situations. It's interesting to me to see if things will work out the same way here, and also see how much further our results will go when we have such an extensive network.  
Of course, I am still learning about the wider company and there are some things we need to get right first. This will take time, but I am excited to have a footprint in this growing organisation and see what I can do here with such a driven team. 
What do you like to do outside of work, and how does that affect your work skills? 
I do a lot of sports and even tried my first attempt at a full-distance Ironman triathlon this year. I also have a two-year-old son and I love spending time with my little family. 
To balance everything, I need to be able to manage my time effectively. It's not just the training hours I need to consider, it's all the time around it. You easily spend 20 hours a week during peak Ironman training I am so deadline-focused because I know the consequences of pushing things along and letting them pile up. It's inefficient and creates more work than necessary. 
Training for something like an Ironman also makes you very analytical. You have to consider which food is working, what effect this session has on that one, and what small changes can I make to get better results. Everything feeds into the next thing.  
The same is true for our business processes and our clients' customs operations. I like seeking out and achieving those marginal gains. 
What is the most important thing a client should look for when they're considering a new customs partner? 
You need a trustworthy partner who is looking to work with you, not just see you as someone who will pay them. That relationship built on trust means that they will call you if there is a problem, and they know that they can rely on you to do your bit as well. Customs is a small part of your supply chain, but it is essential to get right and the little changes can make a big difference. 
You now work with a wide network. If you were to visit an office location of Customs Support, which city or country would you want to see first and why? 
I'm interested in going to Finland. It is a little bit cold for my wife so it wouldn't be our first choice for a family holiday, but I'd love to go check out the culture and the landscapes there.  
#WeAreCustomsSupport 
Thank you, Yorick, for sharing your valuable insights and experiences with us in this interview. Your previous experience, attitude to growth, and attention to detail are sure to make you a success here! We look forward to seeing what's next for the west side of Customs Support Germany under your leadership. 
If you'd like to join Yorick on his mission to empower global trade from Germany, you can explore our available job opportunities here. 
If you are seeking expert guidance from people like Yorick and his teams, do not hesitate to get in touch. Customs Support is here to help you navigate the complexities of international trade and drive your business forward. 
Want to meet more of our team? We are incredibly proud of the 2000+ individuals who make up Customs Support, each one providing valuable input that keeps your supply chains running globally. 
Discover their stories below.