Meet Our People: Róisín Cussen
Image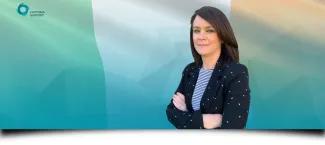 In our series #WeAreCustomsSupport, you will meet the people behind Customs Support. We value our colleagues and the work they do. In this series, we will interview the people who are always ready to assist you with importing or exporting your goods without worries. Next up in this series is Róisín Cussen, who is the Operations Manager in Waterford, Ireland.
Who are you?
Hi!! I'm Róisín Cussen, the Operations Manager of CSG in Waterford, which is in the southeast of Ireland, and where I live with my husband and 2 teenage kids.
My background is in marketing and event management, which I worked in for 20 years before COVID19 influenced the industry. I was fortunate to get a position at Bell Transport and Logistics, which is now CSG Ireland, and I haven't looked back since. I've been able to utilise all my people management and marketing skills here, and no 2 days are the same. It's very fulfilling.
What does an operations manager do at Customs Support?
Well, both the company and the customs landscape has changed so much over the last 2 years. When I first started here, there were only five of us in the office and Brexit clearances weren't a thing. Now, there are 28 people here and we have grown into an EU-wide customs network with CSG, so I have been working to implement systems and processes to accommodate our growth.
In my role today, I cover a range of responsibilities within the team, from the recruitment and management of our people, to onboarding new clients and reviewing our internal systems so that we can continually evolve our service.
What does a typical working day look like?
Throughout our expansion with Brexit and the integration with Customs Support, no 2 days have been the same here in Waterford. I work closely with the team taking care of any HR issues that arise from recruitment to scheduling shifts and appraisals. In addition, I continually liaise between the different departments here, as well as my counterparts in other CSG offices, to foster the exchange of ideas. Any potential problems or points of friction in our processes I'll work to find a solutions that will maximise efficiency. There is no typical working day.
What do you like most about your role?
I mostly like that I have the opportunity to work with several different departments, covering all elements of the business. I like that I get to network and coordinate between them all. Coming from my background in events, that's what I like and where my strengths are.
Every day is something new, and every day is a school day. It's nice to be learning and growing with the team, and I love contributing to their successes as well as my own.
You and your team are in Waterford, Ireland. What's the best thing about your location?
The best thing for me, personally, is that it's so close to where I live. I'm only 10 minutes away by car, which is so convenient.
Waterford, itself, was voted the nicest place to live in Ireland. It's a very beautiful location, we're coastal and we have a lot on offer here. We have a great business community and a university, so there's always something going on.
What excites you the most about joining this network of customs agents?
It's interesting seeing the next part of our growth in Waterford. We've grown from a company of 5 a couple of years ago, to a company of 28 people, and now joining the CSG network has brought a whole new dimension to it.
For me, I think the real advantage is learning from each other. It's exciting to see what systems and processes we have used as we have grown separately, and now we have the opportunity to compare what has worked in other countries with what we do here, and vice-versa.
What do you think the next stage will be for Waterford with these new insights?
Our integration with the Customs Support network has been a key focus of ours over the last couple of months, particularly on the IT side of things. It's been of huge benefit to us already – using their systems – and I think it will continue to be going forwards. They're making huge improvements for customers in terms of speed and efficiency with the digital side of customs clearance processing. It's been really interesting.
Going forwards, we're working on strengthening our relationships with the other brokers in the CSG family that can help us accomplish our own goals of end-to-end clearances, something we have had difficulties with in the past by not having partner brokers in certain countries. It will be a real benefit to us and for our customers.
With the changing landscape of Northern Ireland Protocol and the UK, how do you see your partnership with the mainland UK brokers benefiting you?
Well, we were obviously expecting changes to come into place on a few occasions now, which have been repeatedly pushed back. It has affected us in terms of not getting some business that we had expected to get from the implementing of checks over on the UK side.
But, in many ways, it's given us an advantage as we've been able to get used to different systems and requirements in the UK and fireside. I know our UK counterparts have been all over Brexit and other changes and are with us on finding a cooperative solution once things do come into play here.
What do you think is the most important quality customers should look for in a customs broker?
I'd say that compliance is the most important thing. You need to be able to trust that your broker has your best interests at heart, and that you aren't going to be getting a knock on the door further down the road.
We want to be available to our clients and complete their clearances in a compliant and timely manner, which is why we now have our office manned 24/7. We pride ourselves on being there for our customers and ensuring they get the turnaround and the quality they need.
Final question: you are now part of a Europe-wide network. If you were to visit any of their offices, which city would you go to and why?
I've heard the Italian office is very nice, so I think I'd like to go there. The weather would probably be an attraction, too, compared to Ireland – we get a lot of rain!