Meet our people: Mladen 'Joe' Petricevic
Image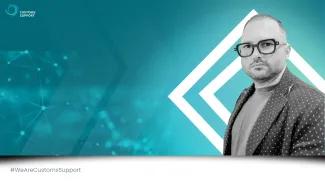 In our series #WeAreCustomsSupport, you will meet the people behind Customs Support. We value our colleagues and the work they do. In this series, we will interview the people who are always ready to assist you with importing or exporting your goods without worries. Next up in this series is Joe Petricevic, who is the Managing Director of Germany South.
Who are you?
Formally, my name is Mladen Petricevic, but everybody calls me Joe. I'm 43 years old, and I live in Frankfurt. I was born here after my parents moved here from Split in Croatia. I'm happily married to my wife, and we have two daughters and a dog. I am one of the founders of ZSK Customs, now a part of Customs Support. As the Managing Director I am responsible for the Southern part of Germany.
What does a Managing Director do?
I am responsible for anything that goes on within Customs Support Frankfurt am Main, whether that's Finance, Operations, Human Resources (HR), or the well-being of our clients. I ensure my team can operate smoothly and support them with whatever they need. The most important part of my job is ensuring everybody is happy, including my team and our clients. I try to bring a smile to their face every day. We work hard, but that doesn't mean we shouldn't also have fun.
What does a typical working day look like?
My day always starts at six in the morning, and I first check my e-mails to see if there is anything urgent that needs my immediate attention. After I walk our dog, I get ready for work. I drop my daughters off at school before I head to the office. I'm not involved in day-to-day operations, but I ensure my team can work without hassle or delay. Most of my days are filled with meetings with our team and clients, both online and in person. Further to this  
What do you like most about your job?
I love working with people, talking with them and having meetings. Our offices are right at Frankfurt Airport, which is a high-pressure environment. Every 20 seconds, a plane lands, and we have to get into action to ensure the smooth import of any goods they bring into the country. However busy this can be, having fun is essential. Making sure my team and my clients have a smile on their faces is what I like most about my job.
What is the biggest challenge?
We work in a complex environment and as a Managing Director, I keep many plates spinning. Making sure all items maintain movement is my biggest challenge. Sometimes everything happens at once and this can be challenging But I always look at the positive side of things and enjoy being challenged and solving issues under pressure. Growing my business from two people to a team of fifty was a huge challenge, and that is something I'm very proud of.
What do you do when you are not in the office?
I also love running and like to work out at the gym. I love being outdoors with the family and taking walks. I track my steps and try to reach the 10,000-step goal daily. Having a dog helps a lot. I have a green thumb, spending a great deal of time in my garden in spring and summertime relaxes me, and I enjoy constantly improving how it looks. I also help my two daughters with their homework, and I like going with them when they have to play tennis and supporting them when they have a game. I am their number-one fan!
Why Customs Support?
We are part of a much larger company now. Being part of the largest customs broker in Europe brings us many opportunities. My clients are better supported across Europe, and I get to support other Customs Support offices when their clients need to import or export goods in my region. Our network became a lot bigger. I have always seen my business as a family business, and family is important. My team can come to me with whatever problem they have, and I will support them to the best of my abilities. That family just became a lot bigger—all for one and one for all.

Get in touch with our team today.