Meet Our People: Mikael Eriksson
Image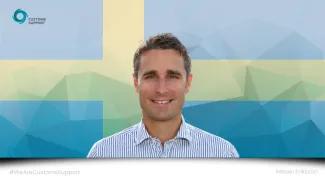 In our series #WeAreCustomsSupport, you will meet the people behind Customs Support. We value our colleagues and the work they do. In this series, we will interview the people who are always ready to assist you with your customs-related needs in foreign trade. Next up in this series is Mikael Eriksson, Managing Director of our Sweden organisation.
Who are you?
My name is Mikael Eriksson. I am 42 years old and live south of Gothenburg with my wife and our three children. I have been working in customs for the past 18 years. When I finished my master's degree in Business Administration and Finance, I started working for DHL Global Forwarding as a trainee. This allowed me to see different aspects of the freight business. One of the departments where I worked was the customs department. When I got an offer to become the head of the ocean freight customs department, I accepted it. The rest is history. It is not a business I dreamed about being in when I was a kid, but it is so interesting. As we say in Sweden, it was a slump (a coincidence), and it was the best slump ever! After four years of working as the head of the customs department, I received an offer from KGH to become a customs consultant, a position where I learned even more about the intricacies of the world of customs for the next four years. Before I joined Customs Support last year, I was the Head of Customs at DB Schenker, responsible for Sweden, Denmark and Iceland. Now I am the Managing Director for Customs Support in Sweden and Norway.
What does a Managing Director do at Customs Support?
I have a very broad role. I'm responsible for all Customs Support operations in Sweden and Norway. It's an organisation of 24 people, but Sweden and Norway are growth markets. I'm also the Head of Marketing and Sales for Sweden and Norway. It's great to work on business development and grow our company. Marketing and Sales is a challenging and creative field.
What does a typical day look like?
No day is the same, that is for sure, but there are several recurring items on my calendar. I have regular meetings with my operations manager and the other team leaders. I also spend several hours every day on sales activities. I meet clients and potential clients via Teams or in physical meetings. Growth is one of my key focus points, but that doesn't mean I can take my I off the ball. We need to keep our current clients satisfied, or they will leave. Efficiency is another focus point. To be able to deliver the high quality and service level that our clients are used to while keeping the cost for our clients relatively low, we need to work very efficiently. I'm blessed with a strong team of highly motivated, knowledgeable, and experienced people.
What do you like most about your job?
My marketing and sales activities for sure. I like long-distance running, and I am a former football player. I like to compete, and I like to win, and that connects with winning new business and competing with our competitors. I also love further developing our organisation and building a solid team. On the one hand, we do this by ensuring people can develop themselves and improve. On the other hand, we do this by improving the efficiency of our customs solutions. Whether external with clients, potential clients, or internal with members of my team, I love working with people. The social part of my job is very important to me.
What is your biggest challenge?
Winning new businesses is my biggest challenge, and it is one I love taking on every day. We operate in a market with many competitors, and most potential clients already have a customs broker. It can be a challenge to explain why they should switch to us. The focus on quality and efficiency and our cutting-edge digital solutions set us apart from our competitors. A lot of our competitors are transportation companies that handle customs operations on the side. We don't transport anything. We focus on the one thing we are good at: managing customs processes and enabling the global trading ambitions of our clients. We are not distracted by any other business. We have a proactive approach. We identify potential risks and help our clients solve them.
What do you do when you are not in the office?
I love spending time with my family when I'm not in the office. My kids play football and tennis, and I love supporting them. We like skiing and travelling. Italy and the South of France are our favourite destinations. The warm weather is a nice change of scenery from the colder temperatures here in the North. As I said, I love long-distance running and playing tennis with my friends. Another one of my hobbies is reading. I read books about the 1800s and the 1900s. So interesting to read about how Sweden developed as a country. Until the Second World War, we were a poor country. Sweden today is a prosperous country. Recent history is also fascinating. Take the Cold War, for example. Another interesting subject is the prime minister Olof Palme murder. I've read more than fifty books about it.
Why Customs Support?
The best thing about Customs Support is our digital solutions and that it is a company that still grow fast. Digitalisation leads to operational efficiency. We use our cutting-edge technology to minimise manual processes and automate customs flows. It minimises mistakes and improves the quality of data. In today's world quality of data is extremely important. The higher the quality of your data, the higher the quality of the business decisions you make based on that information. We improve visibility, and we enhance global trade. We are the future!