Meet Our People: John Dawson
Image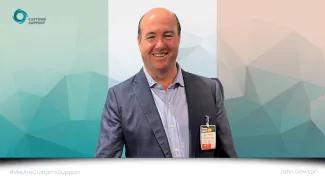 In our series #WeAreCustomsSupport, you will meet the people behind Customs Support. We value our colleagues and the work they do. In this series, we will interview the people who are always ready to assist you with importing or exporting your goods without worries. Next up in this series is John Dawson, Managing Director for Ireland.
Who are you?
My name is John Dawson, and I am 57 years of age. I live in the southeast of Ireland near the fishing village of Dunmore East in County Waterford, with my wife and three children. I'm celebrating 40 years in the customs business next year. In 1983 I started working as a customs declarant at a container shipping company and the customs business grabbed me from the start! After twenty years, I started my own company, which has grown into a full-service customs brokerage firm with 28 staff, facilitating customs for clients in both Ireland and the UK. In December of last year, we joined the family of Customs Support and embarked on the next leg of our exciting journey.
What does a Managing Director do at Customs Support?
My role involves overseeing the day-to-day operations of the business and developing ways to help the business to continue to grow. Each day I endeavor to take care of both my staff and customers. I assist my team, supporting them in their individual roles, as is required. I also liaise with our customers, giving them advice and devising strategies that will ensure their most efficient and economical procedures for imports and export.
What does a typical working day look like?
We don't do typical days here at Customs Support! Each new day brings new challenges. I divide my time between our staff and our customers. It can be anything from general management activities to diving into a complex customs issue. The variety and the unexpected is what keeps me going and makes me tick!
What do you like most about your job?
As I said, no two days are the same, which makes it exciting. This is such a fast paced and ever changing industry which means you learn something new every day. I am very lucky to have great team of staff with whom I thoroughly enjoy working with. Together we discuss, and ultimately solve, the issues our customers face when importing or exporting their goods.
We are lucky to work with such a hugely diverse range of companies, trading in everything from motor cars to food products to animals. We assist with the customs clearance of racehorses travelling to and from the biggest horse racing festivals in Ireland and the UK. Horse Racing is personal passion of mine so this is something I particularly enjoy working on.
We also do clearances for equipment for live music concerts and again music is another interest of mine! I was one of U2's first concert fans when they started their band tours, and now they are my customer! We have assisted them with their stage show transportation in recent years.
What is the biggest challenge for you?
Time is my biggest enemy! Like many others there is not enough hours in the day. With growth comes additional staff requirements, which means attracting new people, taking the time to recruit and indeed train them. But we try to stay a step ahead and take each day as it comes.
Our team now work on a  24/7 basis. Nine to five simply doesn't cut it in international business and so we ensure there is always someone on call to help our customers if and when required.
Another challenge is keeping myself, and indeed my staff, up to date. As I said before it is an ever changing industry. Custom laws are very complex and there are constant changes in rules and regulations. We are in the lucky position to have an ex-Customs officer working on the team who assists us as an advisor. His knowledge and experience is a huge benefit to us.
What do you do when you are not in the office?
I work hard but I also play hard! I love all sports and I particularly enjoy watching a good Hurling match, which is a traditional Irish sport. I enjoy swimming in the sea, most of the year-round, and I enjoy the breeding and riding of horses. I also play golf, as do my three kids. They all play golf and one on a professional level so I get to caddy for them on occasions. Sometimes they even listen to my advice, ha! It's great to be able to support them when I can.
I also enjoy taking walks with my wife along our beautiful coastline and traveling together to see other countries.



Why Customs Support?
It is exciting being part of this dynamic group which is bringing customs clearance procedures into the future. I truly believe that Customs Support has brought our offering to existing and potential customers to a new level. Although a fast growing, IT driven company Customs Support always keeps both internal and external customers as the central focus – this is very important to me. As a group we support each other through our network which in turn means strengthened support for customers trading all over Europe and the world.