Meet Our People: Hanna Gustafsson
Image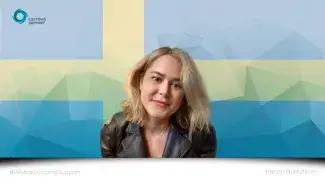 In our series #WeAreCustomsSupport, you will meet the people behind Customs Support. We value our colleagues and the work they do. In this series, we will interview the people who are always ready to assist you with importing or exporting your goods without worries. Next up in this series is Hanna Gustafsson, who works as Operations Manager at Customs Support in Sweden.
Who are you?
My name is Hanna Gustafsson, and I live in Gothenburg, Sweden. My career in customs started in 2016 as a part-time job alongside my studies at the School of Business, Economics and Law at the University of Gothenburg. I first worked as a declarant before being promoted to Export Manager after six months of working full time, responsible for the export department in Sweden and Norway. When the company joined the Customs Support family, I became the Operations Manager for Customs Support in Sweden and Norway.

I have lived both in Costa Rica and Spain for periods in my life. In Costa Rica, I attended a year of high school at a public school in the capital city. Later on I attended business courses in Spain at the University of Deusto in San Sebastián.

Sweden is a great country to live and work in, but the dark, cold winters are not my favourite. I thrive being in the sun and consider it the love of my life.
What does an Operations Manager do at Customs Support?
I don't see myself as a standard Operations Manager. Customs Support is still growing in Sweden and Norway, which makes my job description broader than in a large customs organisation. The core of my job is supporting the operations and ensuring that they have everything they need to help our clients daily. I work closely together with our various department managers. I'm also partly managing interfacing projects as a part of Customs Support IT team, which aims to optimise processes. This means digitising both existing processes, but also implementing new ones.
As I said: I have a broad role. I do what needs to be done, helping my department heads, supporting clients, and doing customs consulting if the need arises.
What does a typical day look like?
It definitely starts with a cup of coffee which I make sure I drink consciously to recharge and focus on the tasks at hand. I love coffee. The next thing would be checking in with our department managers to ensure there are no interruptions in operations. My days are typically filled with internal meetings with the team and external meetings with clients or our customs systems developers.
What do you like most about your job?
I get a lot of energy from optimising processes. It gives me a sense of purpose and a feeling that I truly make a difference. It makes my team's jobs easier and life easier for our clients, enabling us all to focus on the more interesting parts of customs consultancy. I love the feeling of being able to contribute and support others. I don't do this alone, but together with my teams and our clients. 1 + 1 = 3!
What is your biggest challenge?
Keeping up with the speed at which the world of logistics is changing is challenging. Many companies have trimmed their supply chains to save costs as pressures mounted. Many have no or only limited customs knowledge in-house. They see customs as something complicated and disruptive. I like the challenge of making the process so smooth that they no longer see it as a disturbance. It means looking for the optimal way to combine the need for compliance with customs laws and regulations and the reality of everyday logistics operations.
What do you do when you are not in the office?
I love travelling, so I make time for it as much as possible. It gives me the inspiration I need to stay motivated. Like I said earlier, I love the sun. I enjoy connecting with people and letting new cultures and atmospheres inspire me.

I like to break off a day inside the office by spending time outdoors. Other things that fill my heart with joy are good food, prosecco, yoga and music. I also love dogs, especially bulldogs, but I don't have one. Yet!
Why Customs Support?
We only recently joined Customs Support. One of the great things about it is how it keeps growing. It offers many personal opportunities to grow professionally for my teams and me. We can develop new services and collaborate on a higher level than ever before. We can leverage the knowledge across the whole organisation and exchange best practices. Being part of an organisation with offices across Europe enables us to serve our clients even better.