Meet Our People: Gregor Knapp
Image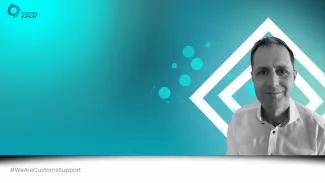 In our series #WeAreCustomsSupport, you will meet the people behind Customs Support. We value our colleagues and the work they do. In this series, we will interview the people who are always ready to assist you with importing or exporting your goods without worries. Next up in this series is Gregor Knapp, who is the business development director for Germany.
Who are you?
I'm Gregor Knapp, and I have been in the logistics industry for almost 30 years.
I began my career in a traineeship with a forwarding company located within Frankfurt Airport. There, I mostly did airfreight but also covered some ocean freight and inland operations. So, since the beginning, I have been in touch with not only customs but the entire supply chain. Door to door.
After my traineeship, I managed some bigger key accounts and then had the opportunity to run an import department.
As part of running that small department, I was in charge of operations, sales and growing the business. I joined some other logistics companies after this, taking on bigger and bigger departments until I was leading the largest department within Germany for a huge logistics company.
That company was acquired by another big player within the industry, and I made the decision not to continue with them. I joined a mid-size forwarder as a commercial business developer, then was offered the challenge to develop and set up a commercial structure at Customs Support Germany in Autumn 2021.
What does it mean to be a business development director for Germany?
Previously, the offices for Customs Support in Germany have mostly been small companies. There hasn't been a strong active sales process for the country, so it is my responsibility to create and implement this so that we can get additional customers on board.
What does your typical working day look like?
The typical day starts with checking emails, then going through the CRM [Customer Relationship Management] system to see what the next steps are for contacting both leads and clients.
Then, I am working with my sales team to locate prospects, call customers, and respond to the requests which come in from our inbound marketing.
I onboard clients, discuss the workload with the team, work on strategies with existing customers and operatives, and look at where we can do more for our customers. For the latter, we are also in close contact with our branches in other countries to see where there are end-to-end customs clearance opportunities.
What do you like most about your job?
I like that we can concentrate on the thing that we do best: we only do customs declarations, customs consulting, and integrations relating to those services.
What we aren't doing is the freight, or any of the other logistics functions. In the forwarding industry, the customs clearance is sometimes treated like a small step, so it doesn't get the attention it deserves. The forwarder's priority is to honour a delivery, not ensure compliance or invest in digital technology for customs functions.
This carries a lot of risk for the trader, and logistics companies are sometimes unaware as there just isn't the focus on customs training like there is when it's a core service.
You're located near Frankfurt, what's the benefit of being there?
The best thing where I'm located is it's close to the Frankfurt airport, and that it's in the center of Germany. So, I can get anywhere in Germany within about five hours.
I am also a little bit outside of Frankfurt, so I get to enjoy some green living whilst also being close enough to the city to get everything I need.
What excites you the most about being part of a European network of customs agents?
My colleagues in other countries have similar mindsets, and it works really well. If one of us comes up with an idea to enrich our offering, then there is normally quick feedback and constructive discussion around the suggestion. I really enjoy working with a team like ours.
What is the next stage of development for Germany?
Our next stage is to grow the team and invest more into our sales processes. My personal target is to have at least a local regional sales person in each of the important German industrial areas.
I think the main challenge for us is now to get better brand recognition. Some clients are still adapting to calling us by Customs Support instead of the name of the acquisition, and there are potential clients who know the names of those entities but not us.
Business development and sales are very high energy. What do you like to do when you're not at work to unwind and de-stress?
I like to spend time with my family and our dog. I have a 17-year-old daughter and a 13-year-old son, so I spend as much time with them as possible.
I also love to travel, and diving is a hobby of mine when I am away. Two of the best places I've dived are in the Red Sea, and in the Maldives.
What's the most important thing that a potential client should look for in a customs broker?
A real setup; one that cares about compliance.
We do our best to collect and use data, and constantly seek to improve our digitalisation so that we can reduce the possibility of typos and errors, and maximise speed.
Our offices are also local to where we provide customs functions, so our declarants have that dedicated local knowledge we need to serve our customers.
You have offices all across Europe. If you were to visit a country of Customs Support, which would you go see first and why?
Of course, I would go to UK to meet my colleague Emmett Young. We've discussed cross-country opportunities a lot, and it's always a good interaction. So, the next step would be UK and followed by Belgium and France, where I have the best connections.
You can meet Gregor Knapp at Aussenwirtschaftstag NRW 2023, hosted by the North Rhine-Westphalian Chambers of Industry and Commerce in the Congress Center Düsseldorf on September 21, 2023. Contact us to find out more about what we'll be doing at the event.