Meet Our People: Esko Holopainen, Customs Clearance Director (Finland)
Image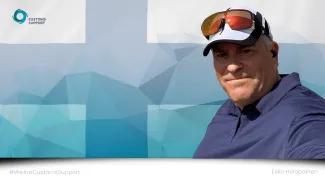 In our series #WeAreCustomsSupport, you will meet the people behind Customs Support. We value our colleagues and the work they do. In this series, we will interview the people who are always ready to assist you with importing or exporting your goods without worries. Next up in this series is Esko Holopainen, who is the customs clearance director in Finland.
Who are you?
My name is Esko Holopainen, and I am the customs clearance director in Finland.
What does a director of customs clearance do?
I manage all the customs activities in Finland. This includes all the development of our digital systems, overseeing our team of customs declarants, and resolving any issues that arise.
What does your typical working day look like?
I don't have a typical working day. I could be reporting to the rest of the board, discussing our services with customers, managing issues within the team, or working with IT on our digital products. I am very involved in our IT tasks at the moment.
What are some of the challenges that you are facing with digitalisation in Finland?
Some of the Finnish customers are not that ready to send messages or make improvements to their system. That's why we have invented our e-portal, to support them with changing digital customs.
Your office is in Helsinki Harbour. What's the best thing about being there?
Helsinki is in the middle of the logistics community, as all the ferries come in and out of there.
What has excited you the most about joining this community of customs agents?
In Finland, we had a good reputation, a good market share, and leading IT systems. We are excited to have joined Customs Support as we anticipate we will be able to repeat this throughout Europe. Becoming part of the Europe-wide team, as one of many strong companies now operating as a single brand on the same mission.
What do you do when you aren't at work and how do you feel like that influences your work life?
Well, I take my kids to sports every day. A lot of competitions and training camps. It takes good time management skills to do it all. I also like to cycle and clear my head. I love biking outside, but being in Finland I am normally on my Tacx indoor trainer with a biking simulator video. This year I've also taken an interest in playing Discgolf (Frisbeegolf). It is a very popular sport in Finland.
What is the most important thing a client should look for in a customs broker?
Professionalism. Customs issues are tax issues, which can have greater consequences than just obstructing trading. You need to know that your broker has experience in different situations, good history and reputation and that they are up to date on their education. They need to be professional so that they are in a position to provide the service that you need.
You work with a Europe-wide network now. If you were to visit an office of Customs Support, which city would you like to see first and why?
Headquarters in Rotterdam and I'd go to Amsterdam whilst I was there. I've seen the biking videos from Rotterdam, Amsterdam, and the North Sea coast of The Netherlands, and there are a lot of lovely cycling paths there that I'd like to visit.