Meet Our People: Elizabeth Gildea
Meet our Chief Finance Officer #WeAreCustomsSupport
Image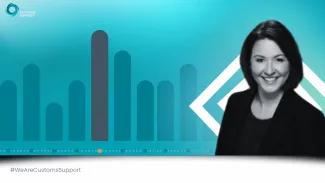 Introducing our exclusive series, #WeAreCustomsSupport today we share more about the wonderful Elizabeth Gildea, our  visionary Chief Financial Officer.
Who are you?
My name is Elizabeth Gildea, I am the newly appointed chief financial officer for the Customs Support Group. I am based in The Netherlands, usually in Amsterdam or the Rotterdam office as this is where our group finance, treasury, tax and legal teams are based.
I'm Irish and have had an extensive international career. I trained as a chartered accountant in external audit before joining CRH Plc as an internal auditor. I worked in Europe and the US for CRH, I then moved to the US with CRH and lived in Atlanta for 12 years. Whilst I was in the US, I began working for the Agro Merchants Group, which involved rapid growth and financial transformation for some of their businesses.
My career so far has given me some very rich experience in internal and external auditing, performance management, business/finance transformation and strategy. I really enjoy the fast-paced buy-and-build private equity environment. I have been with the Customs Support Group for seven months now, and I am looking forward to the future with this team.
What does a chief financial officer do?
I am responsible for the finance function for the Customs Support Group, overseeing treasury, tax, legal, strategic finance, financial control, performance management, and other areas.
What is your typical working day like?
My working day is incredibly busy. We work closely together in finance to create the most efficient, accurate and timely processes and good-quality reporting. I enjoy working closely with operations to create value-added insights and performance-enhancing tools. My working day can include anything from investor relations to working with the audit committee or finance strategy.
What do you like the most about your role?
I love working with the Customs Support team. They are smart, motivated and talented. We work in a challenging, fast-paced environment and I love to see the sense of camaraderie and positive attitude that is required to be successful at this pace.
What is the next stage of development for the finance teams?
We are working on taking finance to the next level. For example, we want to improve the speed at which we integrate a new acquisition. We are also working on focusing on more value-added analytics and a systemic way of working. With these insights, we can take real action.
You work with numbers all day, every day. Lots of spreadsheets, lots of reporting. What do you do when you're not in work to get a break from that?
Hang out with my family and my dogs, Bella and Tiger. I like to run. I like action movies. I love to cook and make my own Irish brown bread which is important because I cannot buy it in Amsterdam. I like to travel back to Ireland to see my family when possible.
What is the most important thing for people to look for when they are looking to partner with a customs broker?
It's all about having a safe pair of hands that are going to minimise the risk for your business.  A customs broker should know all of the local laws that relate to the areas that they operate in and process your declarations with quality and on time. We are positioned across Europe so that we can provide you with local knowledge, supported by Global ambition in our network of nearly 2000 customs professionals.
If you were to visit any office of Custom Support's, which country would you like to go visit and why?
I would say Italy. We've done so many acquisitions there in a short space of time and it would be fun to be there within the culture whilst we make those integrations and changes.
#WeAreCustomsSupport
We express our sincere appreciation to Elizabeth Gildea, our esteemed Chief Financial Officer, for her invaluable contributions to Customs Support. Your expertise and dedication are integral to our success.
For seamless import and export experiences and to explore our comprehensive customs solutions, connect with Customs Support today. Let's redefine logistics efficiency together and unlock new possibilities for your business.