Meet Our People: Des Hiscock
Image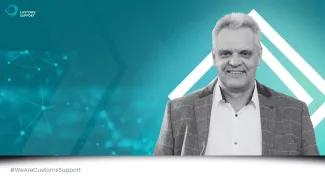 In our series #WeAreCustomsSupport, you will meet the people behind Customs Support. We value our colleagues and the work they do. In this series, we will interview the people who are always ready to assist you with importing or exporting your goods without worries. Next up in this series is Des Hiscock, who is the specialist services director at Customs Support UK.
Who are you?
I'm Des Hiscock. Originally, I'm from South Africa, but I'm an Austrian national and now live in Eastbourne on the south coast of England. I've been happily married for 36 years and have two successful adult children, of which I am extremely proud.
I've always worked in customs, and am also the director general of the UK's largest specialist customs trade association, ACITA.
What does a specialist services director do?
I work very closely with the operations, finance, and commercial teams, developing new ways of working as we evolve the company. Although we are focused on creating compliant processes, we also have to ensure that they are cost-efficient and simple.
The industry is constantly developing, and it's been a challenge changing through both Brexit and the Customs Support acquisitions, but we have been able to create some great new things.
What does your typical working day look like?
No two days are similar and there is a lot to do, so prioritizing is key. A typical day includes some customer engagement, whether with new or existing clients. I am also in weekly meetings with HMRC  and other regulatory authorities, and spend a lot of time with my software developers as we align our CMS system around CDS and the Single Trade Window.  
What do you like most about your job?
The innovation. The challenge of creating efficiency and order out of chaos.
What's the best thing about where your office is located?
I'm lucky to have our main office located in a really tranquil setting, a rural business park on a farm, surrounded by sheep and cattle. The wonderful thing about this place, after working in London and Manchester, is that there's no traffic.
What excites you the most about joining this new network of customs experts?
The depth of knowledge and understanding, and the measured innovation that we have in the group. We're really focused on compliance and development, and it makes the difference.
What's the next stage of development for Tenterden?
We've created some revolutionary digital products in the lead up to CDS, and our next stage depends on how well the new customs system is implemented. We've been at the spearhead of digital innovation, both from an industry and a customer perspective, and we intend to stay at the forefront of these initiatives.
Why is it important to have an office where you work?
Although Covid proved that we can collaborate well remotely, it is important for us to have a physical office. Tenterden is very close to Dover, so we benefit from the pool of skilled talent there and our Eastbourne offices' location allows us to draw from the talent available between Brighton and Hastings.
What do you do when you aren't at work, and how does that affect your work skills?
We have a Husky, so I walk a lot – at least twice a day. When they have time, we do like to see our children and my wife and I do enjoy traveling. I also enjoy running, swimming, and reading. It helps my work to be able to completely switch off and walk away from it, then come back refreshed.
In your opinion, what is the most important thing a client should look for in a customs broker?
A customs broker is tasked with ensuring the legalities and tax implications of moving goods across the borderer complied with, so you need an expert. If you have access to an organisation that takes compliance seriously, is efficient, and continues to be innovative, then you don't need to look any further.
You now work with a Europe-wide network. If you were to visit an office of Customs Support, which city would you go to and why?
Any of our Italian offices. There's not much that can be sorted with some Italian food and red wine.