Meet Our People: Christa Doornbos
Image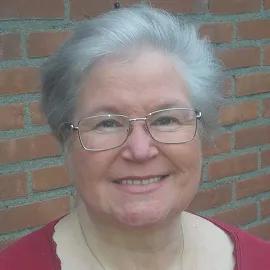 In our series #WeAreCustomsSupport, you will meet the people behind Customs Support. We value our colleagues and the work they do. In this series, we will interview the people that are always ready to assist you and help you import or export your goods without worries. Next up in this series is Customs Support HR Operations Manager Christa Doornbos.
Who are you?
 My name is Christa Doornbos. I have been working at Customs Support for four years now. I started in Finance and made a switch to Human Resources about two years ago.
 I am Human Resource Operations Manager. In this role, I am responsible for human resources in the Netherlands. I do not work alone, I have a great team of three colleagues. Two of them work on human resource-related matters, and one specializes in recruitment.
 We handle anything ranging from contracts, payroll, and onboarding to training and development."
 What does a typical working day look like?
 "Every day starts with a cup of tea. Then I get settled behind my laptop and open my mailbox. In our department, we strive to answer all questions our colleagues have sent within 24 hours. Sometimes something takes a bit more research. Some requests can be handled by e-mail, others require me to grab the phone and call somebody. Our organization keeps growing, both organically and by acquisitions. Every month there are people that are new to Customs Support. And we are new to them.
No wonder they have a lot of questions. How do you make them feel welcome in the family?
"Whether it is a new employee or an employee from a company we took over, they all get a welcome bag, with things like a notebook, a mug, a pen, things like that. For new employees, most terms in their contract are clear when they start. For people that join us through takeovers, this is different. They have a lot of questions on how their new situation compares to their old situation. Still, it requires quite some research to compare contracts and primary and secondary benefits. We look at salary, pensions, insurance, you name it. We find that the effects of the takeovers when we look at terms and conditions are positive for everybody."
What do you like best about your job?
"I love helping people. People are what it's all about in human resource management. I also like researching the various benefit structures there are when we take over a company, and make all the calculations. My love for numbers comes from working in finance for 30 years."
From finance to HR?
"Yes. I got at that point in life where you look at what you do and think about if you want to do that for the rest of your career. While I loved working the numbers, I also have a passion for the people side of the business. After careful consideration, I decided to change careers. I enrolled in a human resource study and got my degree. Customs Support then enabled me to switch from finance to the human resource department. I haven't looked back ever since."
What is one of the biggest challenges?
"The biggest challenge is how to explain why certain decisions are taken. Especially for the people that work at the organizations that we acquired, there can be a lot of changes. Even if they are positive, it can be stressful for people. A part of my job is making sure people have peace of mind."
And what if you are not at work?
"I love to read. I also like watching a good movie with my husband. We used to do competitive ballroom dancing, but now we like the slower pace of walking our dog more. I'm also a huge Disney fan. I love all their movies and I love going to the Disney parks. I have visited all the Disney parks in the United States, and I'm a regular visitor to Disneyland Paris. I want to visit all the parks on other continents as well. My favorite character? Tinkerbell for sure." 
Why Customs Support?
"What I like about working at Customs Support is autonomy. It is an organization that trusts it's people to do the right thing. This means there are a lot of issues that you can tackle yourself, without having to get permission for every step. Another thing I like is how flat our organization is. Everybody talks to everybody. This creates a great atmosphere. In Dutch we call it "gezellig", and that is an atmosphere in which I thrive."