Meet Our People: Bee Newboult
Group Brand and Communications Manager
Image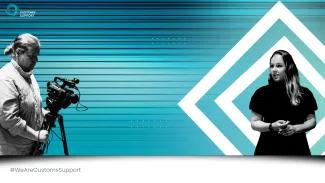 In our series #WeAreCustomsSupport, we invite you to meet the minds behind our success. Today, we present an exclusive interview with Bee Newboult, the Group Brand and Communications Manager at Customs Support.
Q: Tell us about yourself!
Hello there! I'm Bee Newboult, the Group Brand and Communications Manager at Customs Support. My role revolves around crafting a compelling brand story that unites our diverse network and resonates with our clients worldwide. I strive to keep our clients informed, empowered, and excited by ensuring our communication channels effectively convey our knowledge and experience.
Q: Can you describe a typical working day for you?
A typical day for me is a blend of creativity, strategy, and collaboration. I work with our marketing teams to develop innovative ideas and campaigns that resonate with our client base. From creating content to exploring digital marketing avenues, each day presents a unique challenge and an opportunity to make an impact. We also like to infuse a touch of fun and humour into our content, making the customs experience enjoyable, one of my favourites being our blooper reel from last year's national tell a joke day – take a look here!
Q: What aspect of your role excites you the most?
One of the most exhilarating aspects of my role is the opportunity to stay ahead of future technologies and seek new solutions for educating, inspiring, and sharing knowledge with our clients. As the world of trade continues to evolve, it's crucial for us to anticipate and adapt to these changes. I'm truly passionate about exploring innovative approaches to communication and marketing that will support and enhance global trade.
The thrill of seeking answers to the future of trade and understanding how it may impact and support businesses is at the core of my drive. With the convergence of digital marketing and customs, I am dedicated to exploring new avenues, leveraging emerging technologies, and creating meaningful experiences for our clients. By being proactive and forward-thinking, Customs Support can remain at the forefront of industry advancements, empowering businesses to navigate customs procedures with confidence and efficiency.

Q: Is there any work, in particular, you can share with us that you are proud of?
Absolutely! I recently had the opportunity to complete the filming of a series of video media centered around the hot topic of Simplified Customs Declaration Procedures (SCDP). These videos are specifically designed to provide valuable insights and practical information about SCDP to businesses engaged in international trade.
In this video series, we delve deep into the intricacies of SCDP, highlighting its numerous benefits, outlining the streamlined processes involved, and showcasing the positive impact it can have on businesses' import operations. I take immense pride in the effort and dedication that went into creating these videos, as they serve as an invaluable educational resource for businesses navigating the complex customs landscape.
I am eagerly anticipating the moment when we can share these videos with our audience. They represent our commitment to staying ahead of industry trends and providing valuable guidance on SCDP. By leveraging the power of visual media, we aim to simplify the often daunting customs procedures, empowering businesses to make informed decisions in their import processes.
Moreover, as someone diagnosed with a number of disabilities, I am deeply passionate about ensuring our work is accessible to all. We prioritise inclusivity by investing time in creating diverse media formats and providing a range of ways for our audience to learn from us. We meticulously check color contrasts for optimal visibility and continuously seek new tools and technologies to enhance accessibility.
By integrating accessibility into our campaigns, we aim to demystify the overwhelming jargon associated with customs procedures and make the information easily understandable for all. Our ultimate goal is to remove barriers and foster an inclusive environment where individuals of all abilities can thrive in the customs sector.
This holistic approach to accessibility not only reflects our commitment to diversity and inclusion but also empowers businesses to navigate customs regulations with confidence, regardless of their unique needs and circumstances.
Q: You mentioned the convergence of digital marketing and customs. Could you elaborate on that and share your vision for the future?
Sure, for me the convergence of digital marketing and customs offers exciting opportunities. As the world becomes more interconnected, businesses must adapt. Leveraging digital marketing strategies allows us to reach a broader audience, expand our services, and provide real-time, tailored solutions.
By harnessing data analytics, automation, and emerging technologies, we enhance the customer experience, streamline customs processes, and drive meaningful outcomes.
Q: When you're not working, what activities do you enjoy, and how do they contribute to your professional skills?
Outside of work, I enjoy hiking, gaming at our local board game café, and participating in historical events across Europe. Yes, I am a total nerd, and I love it. These activities recharge me and foster a healthy work-life balance. They spark my creativity, enhance my problem-solving skills, and provide unique perspectives that enrich my professional endeavours. Moreover, I'm currently pursuing a master's degree in leadership and marketing at the University of Lincoln, demonstrating my dedication to continuous improvement in both my personal and professional life.

Fun fact: I am also learning Dutch (three cheers for Duolingo)! So far my skills are limited to explaining how "twee honden zijn eten aardbeien" so it may be a while until I get to grips with more helpful phrases. But, who knows maybe this time next year you'll have more from me in our native head-office language. For now, at least I can order my 'thee met twee suikers en melk' when I visit. 
Q: Among Customs Support's Europe-wide network, if you could visit one country, which one would you choose and why?
Having already visited numerous countries within the Customs Support network, there is one region that has escaped my travels so far Finland. The beauty of the Nordic countries, coupled with the exceptional colleagues we have there, has piqued my curiosity. So Kati, if you want to drop me an invite – I wouldn't say no (*wink wink* *nudge nudge*).
#WeAreCustomsSupport
In 2020, the world became more digital than ever before, but amidst this digital transformation, the need for human connection remains as strong as ever. We recognise the importance of forging meaningful connections, building networks, and finding like-minded professionals who share our experiences and aspirations in the business world. It is with this intention that we have developed the #WeAreCustomsSupport series, to help you get to know others in your field, no matter where you are.
Explore the inspiring interviews below and join us on LinkedIn to follow our ongoing #WeAreCustomsSupport series. Together, we will highlight the individuals who play a pivotal role in facilitating seamless customs experiences for businesses worldwide. Let's foster connections, share knowledge, and empower each other in our collective pursuit of success in the dynamic world of global trade.