Meet Our People: Andrew Holden
Image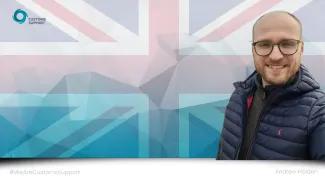 In our series #WeAreCustomsSupport, you will meet the people behind Customs Support. We value our colleagues and the work they do. In this series, we interview the people who are always ready to assist you with importing or exporting your goods without worries. Next up in this series is Andrew Holden, who is the UK office manager in Llanelli, Wales.
Who are you?
Hi, I'm Andrew Holden. I'm 28 years old, and I've lived in Wales all my life. I moved down to south Wales [from north Wales] about five years ago now, and I joined Clearing Customs UK [who were acquired by CSG] at the start of Brexit [January 2021].
What does an office manager do?
It varies from the general managing of staff, to assisting customers and international colleagues with their clearances. I'm also involved in developing our processes as we look toward the future.
What does a typical working day look like?
It can be very different from day to day. I can be deeply involved in customs clearances with the team, or I could be in meetings with colleagues and customers.
What do you like most about your job?
I like the fact that no two days are the same and it's interesting to come in and not always know what's going to happen. You have an idea when you put yourself on projects and plans, but then something can happen that completely throws you. It's a good challenge.
What's the best thing about where your office is located?
For me it's quite close to the hub of where I live, and there's nice transport links between the office and home. In terms of location, it's always nice to be near the coast. I can nip off for a nice lunch by the sea and then get back in good time.
What excites you the most about joining this new network of customs experts?
It opens up a lot of opportunity for us to support our customers on both ends [of the UK and the EU]. We have been concentrating on Ireland and the UK for the last year and a half with Brexit, so now it's a good chance to start focusing on the European Union. There is also a wealth of knowledge that we now have access to, which is exciting for us.
What's the next stage of development for Llanelli?
We have a couple of big things going on here. Firstly, the move to CDS in September [for import clearances] is a priority for us here. Secondly, we are working closely with our counterparts across the UK and Ireland to better service our transport customers moving between the two countries.
Why is it important to have an office where you work?
Not a lot of customs brokers focus on the Irish Sea route, and we are one of the furthest-West in the UK. It's important we service this part of the United Kingdom and those moving goods between the UK and Ireland.
What do you do when you aren't at work and how does that affect your work skills?
I like history a lot – it is what my original undergraduate was in - and I go to history festivals and museums. I also love to play golf or go to the beach or Brecon Beacons for a long walk. It's nice not to have to think about anything for a few hours and see the sights.
Being able to switch off outside of work allows me to be fully engaged when I'm in the office, and the patience that you need to have to play golf or research history projects definitely pays off in the customs industry – you need to be patient and persistent in drawing all the information together with the ever-changing landscape.
In your opinion, what's the most important thing to look for in a customs broker?
Accuracy, compliance, and helpfulness – particularly when you are dealing with small to medium businesses. They're often brand new to customs clearance, particularly after Brexit, so they have no experience. We need to be patient, make things simple, and ensure that we give them the correct information so that we are not a barrier to them moving their goods.
You now work with a Europe-wide network. If you were to visit any CSG office, which city would you choose and why?
Amsterdam. I've never been to The Netherlands before. There is a lot of history there, and I've heard it's a very nice city to visit.