Image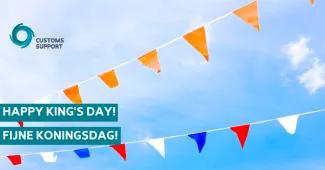 The Dutch are inseparably linked to international business, import and export. Dutch companies are active all over the world.
Did you know that two-thirds of the goods produced in the Netherlands are sold in the European Union?
Did you know that we as Dutchmen are the largest exporter of Tulips in the world?
And that we are one of the largest importers of oranges?
Today we celebrate the birthday of King Willem-Alexander: King of the Netherlands.
Our offices in Venlo and Terneuzen (NL), Germany, Belgium, France, Poland and the United Kingdom are open today. 
All other offices in the Netherlands will be ready for you again tomorrow.