The EU-Vietnam trade agreement has been signed on the October 19th
Image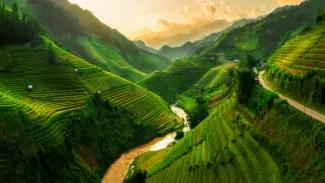 Who has not seen the iconic movie Good Morning Vietnam, which starred the late and great Robin Williams? Well, on Friday October 19 it will be a good morning for both Vietnam and the European Union. The EU-Vietnam Trade Agreement which has been in the works for over 3 years will be signed by both parties.
What's in it for Companies?
Both for EU companies that export goods to Vietnam and for EU companies that import goods from Vietnam this trade agreement has a lot of benefits. To name a few:
On both sides, almost all tariffs will be removed. For some products the impact is big. For example: currently, there is a tariff of up to 78% on cars, up to 35% on machinery and appliances and 30% on chocolates when exported to Vietnam. Once the agreement is in force, the duty on these products will be 0%. Zero.
65% of all import duties on EU exports to Vietnam will be liberalized immediately. The remainder of the duties will be gradually eliminated over a 10-year period. 
Vietnam has also agreed to incorporate more international standards in its regulations. The EU certificates of conformity for cars and the recognition of the "Made in the EU" markings for most non-agricultural products are good examples of that. 
Access for EU companies and service providers to the Vietnam market

European companies will be allowed to bid on public procurement projects in Vietnam, like large infrastructure projects. Vietnam will also see to it that local companies don't get an unfair advantage and EU innovations, brands, and artworks are protected from illegal copying, keeping the local playing field level.
Among the sectors that will benefit are postal and courier services, banking and insurance services, and also maritime transportation. 
Opportunity Awaits
Commissioner for Trade Cecilia Malmström said: 
"The agreement is a great opportunity for European exporters. Vietnam is one of the fastest growing countries in South East Asia, a market with significant potential for the EU's agricultural, industrial and services exports. Having concluded the legal review, we now hope to conclude the trade agreements swiftly to allow EU firms, workers, farmers and consumers to reap the benefits as soon as possible. Vietnam is a good example of a developing country seizing the opportunities of open global trade, hand in hand with clear commitments to respect human rights and to comply with International Labour Organisation conventions."
Stakes Are Already High
With trade worth € 47.6 billion in 2017, Vietnam is the EU's second biggest trading partner in the region, after Singapore. 
The EU is one of the largest foreign investors in Vietnam. In 2017, EU investors committed €1.6 billion in Foreign Direct Investment, reaching a total investment stock of €19.2 billion.
It seems the groundwork is done to increase both trade and investments in and by both Vietnam and the EU.

The iconic Goooood morning Vietnam scene: https://www.youtube.com/watch?v=wuk8AOjGURE