A Digital-First Approach to Customs
What digital customs solutions mean for you and your business
Image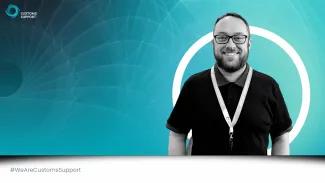 Customs Support is known as a leading provider of digital customs solutions, but what does that mean? UK IT Director Ash Taylor explains why it's important to progress digitally in this article.
What does digitalisation in customs mean to you?
I think it's a giant step forwards. When technology is making progress in all other sectors, we [the customs industry] can't be sitting here doing declarations by hand anymore.
In an accuracy-sensitive industry like ours, having the numbers, descriptions, and other information automatically obtained from documents and then fed to our system is the way we need to go. What used to take maybe two hours can now be done in five or ten minutes, and with less chance of error, so the benefits are clear.
This isn't to say that we need digitalisation so that we can reduce the number of staff. Far from it. Our people have valuable skills and knowledge and our efforts towards digitalisation simply mean that we want them to have greater capacity to do other things, and for us to benefit from having a computer do most of the manual or duplicate entry where there is the greatest risk of error.
What do you think the benefits are to moving away from paper-based customs?
Aside from not killing the trees, it's just simpler for everyone:
The data is in the cloud, instead of on a piece of paper that could be anywhere.

There isn't the time expenditure of printing everything or finding a file.

There is no need to store all that paper for six years, clogging up office space or storage rooms, and that naturally reduces the risk of fire.
What's the risk of digitalisation in customs?
There is a risk of data being compromised, so your cyber security does need to be in place. That risk does also come from any partners or middlemen if the data is being shared. You can protect your own systems, but other people's is not under your own security.
You're based in Customs Support UK's HQ in Felixstowe. Have they always been digitally savvy?
I would say so. I have been with the team here since we were UKCS and – even before we started testing the customs functions – we've always worked with macros and coding to try and automate certain tasks.
Compliance has always been key for us in Felixstowe, and we recognised early on that manual entry is both an immediate and compound risk. A declarant can make a mistake during input and that risk increases when they have too much to do in too little time. Automation reduces risk in both those areas.
We've also accelerated in what we can do since we joined the Customs Support Group. The tools that we have access to and the collaboration with other customs IT specialists across Europe definitely help us to do more in a shorter space of time.
You were part of the rebranding process from many of the UK acquisitions, helping them in improving their integrations. Can you tell us a little bit about that process?
Firstly, we do an audit to see how they are incorporating digitalisation, create an action plan, and give them access to all of the tools and systems they need.
Some companies have started to adopt digitalisation in customs; some are still working completely off paper. Obviously, the less a company is doing, the more there will be an educational aspect and potentially overcoming some resistance.
We then check in with teams regularly to make sure that they are progressing, collect their feedback and work with them to make sure it goes as smoothly as possible.
With customs being the ever-changing landscape it is, not every conversion is so simple. We had the move to CDS to contend with last year, so that compounded a lot of work for those offices migrating to our systems, and acquisitions are also integrating their services with the continent so their workloads are changing at the same time.
What are the benefits of uniting multiple offices under the same systems?
Each country in the Customs Support Group maintains its own kind of systems, because they have their own local nuances at the end of the day. But inside the UK, it makes sense for us all to be working under one software. We migrate everyone over to one system and then there is one set of procedures for all of us.
It also makes sense from an employee perspective. If they are working with another office, or wanted to relocate, then they already know the system. Similarly, if our colleagues in Europe have their UK tasks assigned to a different team, they will handle it the same way.
What do you think your clients should be doing to best prepare for a digital customs future?
They should definitely be speaking to their suppliers about scanned documents. Even when completing customs declarations off of paper, scanned documents present a risk of misrepresenting the original document.
Imagine an invoice that's been scanned from the supplier to the buyer and then from the buyer to us. The quality can be a mess by the time we see it, especially if it comes over black and white when it was colour. This is when threes begin to look like eights or edges of numbers start to vanish. It wastes time trying to figure it out.
Sending digital files removes this risk as they maintain their quality throughout the supply chain.
How did you get into IT as you were in customs first?
I've always been interested in IT, playing with computer parts, programming, or gaming. I started with customs and gradually moved into IT as things came up that I could do, and then eventually I became the IT manager for UKCS and now I run the IT for Customs Support in the UK.
What's an example of a silly IT issue you need to deal with?
As cliché as it sounds, it is the "Have you tried turning it off and on?" scenario. I always have to double check this because I will ask, they will say "Yes, I have.", and then I'll get there and try it. Surprise, surprise, it works! It is the first port of call for a reason, so just do it before calling IT.
Discover how you could benefit from digitalisation in customs
Whether you need help preparing for digitalisation in customs, or need import and export clearance services, Customs Support are here to help. Contact us for more information.