Customs Support welcomes PX Safety to the family
Image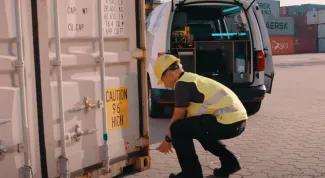 We are very proud to announce that we have welcomed PX Safety to the Customs Support family as of October 1st.
PX Safety is a company with many years of experience in gas measurements and ventilation of import containers. They operate in the Northern and Middle part of the Netherlands where they perform high-quality gas measurements. In close cooperation with logistics companies, importers, and production companies they perform these measurements at all inland container terminals in the Northern part of the Netherlands. 
With this acquisition, Customs Support strengthened it's Dutch network for gas measurement and degassing of containers.
Creating a Safe Working Environment
In up to 20% of all containers imported in the Netherlands, there are hazardous levels of toxic gasses. These gases present a health and safety risk for people that need to load or unload the container, or for people who have to open it for inspection.
Customs Support employees are highly skilled and experienced experts that will inspect containers and check for hazardous gases with specialized equipment. If the gas levels are too high we have the equipment needed to degas the container to make it safe to open. If needed, our people can unload a container wearing specialized hazmat suits and protective equipment.
We go beyond a simple gas measurement and work together with our customers to find solutions for whatever gas-related challenge they are faced with.
New Offices in Groningen
On November 1st Customs Support will open a new office in Groningen in the Protonstraat (Proton street). This new location will be the new base from which we will continue to serve the middle and northern part of the Netherlands. We will continue working closely with our customers to ensure a safe working environment in the most efficient way possible. We will also expand our customs brokerage services from our new Groningen Office.
If you want more information on gas measurements, degassing or other services related to these hazardous gasses or need assistance with ensuring your people can work with containers safely, contact one of our experts. They are happy to help.