Customs Support Strengthens Presence in Switzerland
with Acquisition of Zollimpex
Image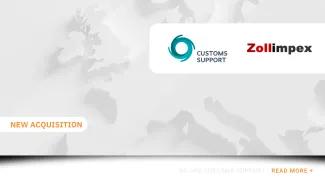 Customs Support, the leading provider of customs services, is proud to announce the acquisition of Zollimpex, part of BKM Customs and Consulting AG (BKM), a customs broker and consulting firm based in Switzerland. The acquisition of Zollimpex is part of Customs Support's strategy to strengthen its presence in Switzerland.
About Zollimpex 
Zollimpex, founded in 1974 and owned by BKM Customs and Consulting AG since 2019, is a neutral partner for customs matters strategically located in Switzerland and Germany. Zollimpex has 15 employees working across 5 offices at the borders in Pratteln (HQ), Rheinfelden, St. Louis and Basel Weil autobahn (DE and CH). The business aims to be a 'one stop shop' for its customers in both the Basel region and wider Switzerland. As such, it provides import, export and consulting services. 
Over the years, the Zollimpex team has been competent in working securely and at high pace to provide professional, reliable and speedy customs clearance. They have opened borders for clients, generating custom documents for all types of cargo, delivering a unique service to clients supported by long-standing specialists and state-of-the-art data processing. All of this is on a neutral playing field, as Zollimpex does not transport goods, they only clear customs. 
Incorporating Zollimpex into its network, Customs Support strategically positions itself in central locations in Switzerland, enhancing its operational reach across France, Germany, Italy and Switzerland. This strategic move will substantially expand Customs Support's service portfolio in the country, offering clients an extended array of modern customs services, emphasising efficiency, digitalisation, and automation solutions. This aligns perfectly with Customs Support's overarching buy-and-build strategy, which is mainly oriented on international expansion within the customs services sector. The primary objective of this acquisition is to deliver even greater value to the existing client base of Customs Support and Zollimpex, all while retaining the current skilled management and workforce and fostering the continued growth of all stakeholders in both organisations.  
"We are very excited to expand and strengthen our presence in Switzerland with the acquisition of Zollimpex. With the quality of service they deliver to clients Zollimpex is a great fit into Customs Support. This acquisition will allow us to serve our clients in the region even better and provide them with the best, digital customs services. Together, we're opening new horizons for clients, maintaining our unwavering dedication to professional, reliable, and digital customs clearance on a neutral playing field." 
Frank Weermeijer – CEO Customs Support 
"This transition of Zollimpex becoming part of Customs Support, the Number 1 digital customs partner, opens up fresh possibilities for our clients and our team. Collaborating alongside Customs Support enables Zollimpex to strengthen their dedication to delivering exceptional customs solutions. With the strategic locations in Switzerland, Zollimpex extends their reach as part of an expansive network, offering enhanced efficiency, digitalisation, and automation in customs services." 
Florian Brecher – BKM Customs & Consulting AG 
Customs Support is committed to providing its clients with the best possible service and the acquisition of Zollimpex is a testament to that commitment. With the addition of Zollimpex, Customs Support is now better positioned to serve its customers in Switzerland and the surrounding regions. 
About Customs Support Group 
Headquartered in the Netherlands, Customs Support Group is Europe's leading independent, digital and neutral provider of customs services, employing near 2,000 dedicated customs professionals serving over 30,000 customers annually. Our extensive service offering and digital capability consistently support our clients in maximising regulatory compliance, achieving operational efficiencies, import duty optimisation, duty planning, and ongoing development for a constantly shifting customs landscape.  
In addition to traditional brokerage and digital services, Customs Support Group offers customs consulting and gas measurement services. 
The company is active in the Netherlands, Belgium, Germany, Poland, France, United Kingdom, Ireland, Italy, Finland, Sweden, Norway, Switzerland and Spain. In Europe, Customs Support Group serves many cross-border clients in several industries such as automotive, food and beverage, manufacturing and many more. Customs Support is the number one in digital customs and invests substantially in the digitalisation of the customs processes.  
About Castik Capital 
Castik Capital S.à r.l. ("Castik Capital") manages investments in private equity. Castik Capital is a European Private Equity firm, acquiring significant ownership positions in European private and public companies, where long-term value can be generated through active partnerships with management teams. Founded in 2014, Castik Capital is based in Luxembourg and focuses on identifying and developing investment opportunities across Europe. Investments are made by the Luxembourg-based fund, EPIC II SLP. The advisor to Castik Capital S.à r.l. is Castik Capital Partners GmbH, based in Munich.  
If you are the owner of a customs brokerage, gas measurement or other related services business and would like to know more about the possibilities of your business joining Customs Support, please contact Sebastian Ootjers – Director M&A and Corporate Development at (sebastian.ootjers@customssupport.com). 
If you have any questions, please refer to our Marketing & Communications department at (marketing@customssupport.com)