Customs Support strengthens Italian presence with the acquisition of Essedi Operatori Doganali
Image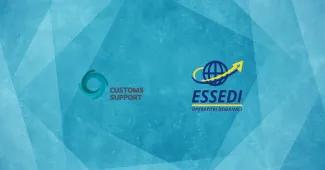 Customs Support, the leading digital and independent partner for customs declarations in Europe, announces the acquisition of Essedi Operatori Doganali ("Eurocad") and Esse-Di Trucks. This acquisition strengthens our local presence in one of the industrial hearts of Italy and enables Customs Support to be even closer to our customers. The transaction marks another important step in our vision to be the leading customs partner for clients across Europe.
About Essedi Operatori Doganali
Established in 1994, Essedi Operatori Doganali is an acknowledged customs broker, strategically located in Reggio Emilia with 17 employees.  As one of the first companies in the area, it started operating as a focused service provider for customs and Intrastat activities and has grown strongly by meeting and servicing to the high standards of its clients.
Essedi Operatori Doganali stands for compliance and reliability and its team works with great competence. Consequently, it was the first company in the Reggio Emilia area to achieve AEO status, in 2008.
Since its foundation, Mr. Grisendi, the founder of Essedi Operatori Doganali, has forged long-term client relationships with both small and large companies. Both Essedi Operatori Doganali and Customs Support strongly believe that their respective clients will benefit greatly from the combination given the increased scale, digital customs services, and enhanced geographic coverage.
"Joining Customs Support will be highly beneficial for our clients as it provides the ability to benefit from European services, digital know-how, and local presence across Europe. We are really enthusiastic about joining the leading European customs broker and the frontrunner in digitizing the customs industry. We believe Essedi Operatori Doganali and Customs Support are a great fit for both clients and employees."
- Serse Grisendi, Managing Director of Essedi Operatori Doganali.
"With Essedi Operatori Doganali joining the Customs Support family we are further expanding our local presence in Italy. The team of Essedi Operatori Doganali brings in broad customs knowledge and expertise in customs clearance, consulting services, and professional training. Essedi Operatori Doganali has an excellent track record in providing service to clients. In our ambition to be in close proximity with clients, we can offer clients a broad and complete range of customs services in 13 locations in Italy. Global customs knowledge, local presence!"
- Frank Weermeijer, CEO of Customs Support Group
About Customs Support Group:
Headquartered in the Netherlands, Customs Support Group is Europe's leading independent, digital and neutral provider of customs services employing >1,100 dedicated customs professionals serving over 12,000 customers annually. Through our extensive service offering and digital capability, we consistently support our customers in maximising regulatory compliance, achieving operational efficiencies, import duty optimisation, duty planning, and ongoing development for a constantly shifting customs landscape.
In addition to traditional brokerage and digital services, Customs Support Group offers customs consulting and gas measurement services. The company is currently active in the Netherlands, Belgium, Germany, France, United Kingdom, Poland, Italy, Ireland, Finland, Sweden, and Switzerland.
In Europe, Customs Support Group serves many cross-border clients in several industries such as automotive, food and beverage, and many more. Customs Support is the frontrunner in digital customs and invests substantially in the digitalisation of the customs process.
For more information, please visit https://www.customssupport.com/
About Castik Capital:
Castik Capital S.A.RL.. ("Castik Capital") manages investments in private equity. Castik Capital is a European Private Equity firm, acquiring significant ownership positions in European private and public companies, where long-term value can be generated through active partnerships with management teams.
Founded in 2014, Castik Capital is based in Luxembourg and focuses on identifying and developing investment opportunities across Europe. Investments are made by the Luxembourg-based fund, EPIC II SLP. The advisor to Castik Capital S.à r.l. is Castik Capital Partners GmbH, based in Munich.
If you are the owner of a customs brokerage, gas measurement or other related services business and would like to know more about the possibilities of your business joining Customs Support, please contact Sebastian Ootjers – Director M&A and Corporate Development at sebastian.ootjers@customssupport.com.
If you have any questions, please refer to our Marketing & Communications department at marketing@customssupport.com.