Customs Support strengthens European presence with acquisition of Portmade Group
Image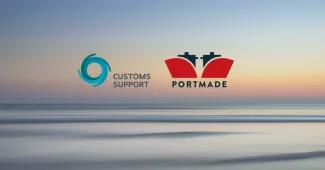 Customs Support, the number one digital customs broker in Europe, announces the acquisition of Portunes, better known as Portmade. With this acquisition Customs Support emphasizes the importance of broad customs knowledge and local presence with strategic offices close-by clients in the most important logistics hotspots in Belgium and The Netherlands. 
About Portmade 
Portmade, started in 1996, is the leading customs service broker, providing valuable global knowledge and experience in logistics and customs activities. From its home ports in Belgium and the Netherlands, Portmade offers customs formalities and declarations, customs consulting, digital customs solutions and gas measurement and gas-free certification. The dedicated team of over 50 employees works closely together with clients and offers years of expertise, customs specialism and support in customs related declarations within the Benelux. Among the many long-standing clients are shipping companies, shipping agencies, terminals, logistics service providers and large carriers and shippers. 
Portmade is a pioneer in digital customs business and has, over the past few years, put a lot of effort into digitalisation to increase quality, optimise operations and make procedures even more efficient. The team of Portmade is experienced and well-educated. The senior management team is active in various local, national, and international interest groups such as Forward Belgium, National Customs Forum, Alfaport and CLECAT. Portmade is both AEO (Authorised Economic Operator) and ISO 9001:2015 certified. 
"The opportunity to join Customs Support, the digital leader in customs brokerage, will bring our clients more possibilities in digital customs solutions and a broader access to customs knowledge in Europe. Clients will benefit from state-of-the-art digital solutions for customs services throughout Europe. With the combined knowledge of the teams of Portmade and Customs Support we can offer our clients extensive customs knowledge! 
- Jef Hermans, Managing Director of Portmade Group. 
"With Portmade we expand our presence in the Benelux. The team of Jef is ambitious, well-educated and experienced in customs, consulting and gas analysis and will bring extensive value to both our clients and organisation. Together with the Belgian and Dutch teams we will continue offering clients tailored customs services in eighteen locations in Belgium and The Netherlands. Global customs expertise, local presence!" 
- Frank Weermeijer, CEO of Customs Support Group 
About Customs Support Group: 
Headquartered in the Netherlands, Customs Support Group is Europe's leading independent, digital and neutral provider of customs services employing >1,250 dedicated customs professionals serving over 12,000 customers annually. Through our extensive service offering and digital capability, we consistently support our customers in maximising regulatory compliance, achieving operational efficiencies, import duty optimisation, duty planning, and ongoing development for a constantly shifting customs landscape. 
In addition to traditional brokerage and digital services, Customs Support Group offers customs consulting and gas measurement services. The company is currently active in the Netherlands, Belgium, Germany, France, United Kingdom, Poland, Italy, Ireland, Finland, Sweden and Switzerland. 
In Europe, Customs Support Group serves many cross-border clients in several industries such as automotive, food and beverage, and many more. Customs Support is the number one in digital customs and invests substantially in the digitalisation of the customs process. 
For more information, please visit https://www.customssupport.co.uk/ 
About Castik Capital: 
Castik Capital S.à r.l. ("Castik Capital") manages investments in private equity. Castik Capital is a European Private Equity firm, acquiring significant ownership positions in European private and public companies, where long-term value can be generated through active partnerships with management teams. 
Founded in 2014, Castik Capital is based in Luxembourg and focuses on identifying and developing investment opportunities across Europe. Investments are made by the Luxembourg-based fund, EPIC II SLP. The advisor to Castik Capital S.à r.l. is Castik Capital Partners GmbH, based in Munich. 
If you are the owner of a customs brokerage, gas measurement or other related services business and would like to know more about the possibilities of your business joining Customs Support, please contact Sebastian Ootjers – Director M&A and Corporate Development at sebastian.ootjers@customssupport.com. 
If you have any questions, please refer to our Marketing & Communications department at marketing@customssupport.com.