Customs Support is looking for an EDI / Data-Integration Specialist
Image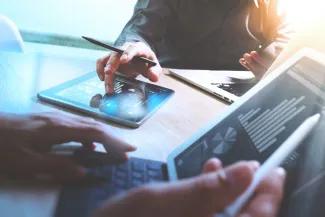 Do you like data conversion, data mapping and data manipulation? Do you have experience with EDI and mapping and are you familiar with the logistics world? Then you've come to the right place!
Your main activities: retrieving, converting, mapping, manipulating and loading customer data into our own systems, saving time and money and digitizing repetitive manual work.
What are you going to do as an EDI / Data Integration Specialist?
You are ultimately responsible for the data integration between our customers and the Customs Support Group (the European neutral customs agent, active in 6 countries: BE, DE, FR, NL, PL and UK)
Familiar with communication standards such as AS2, (S) FTP, and HTTP (s)

You can map EDI messages

Experienced in the field of middleware management

Experienced with developing mappings (EDIFACT, XML, UBL and associated messages such as orders, packing slip, invoices, etc.);

You consult proactively with our customers

You don't see problems, you see challenges

You are a communicator and communicate clearly with our customers (about the input) and your colleagues (about the output)

You see challenges in making the (creative) translation from source (customer) to input (XML) file for our customs software packages.

You are a team player and sharing knowledge is self-evident

You are responsible for all projects & support on Lobster Data (our EDI software)

Good knowledge of ERP functionality

Above average knowledge of logistics and/or customs processes

You are fluent in English, both reading and writing. 

And above all, you are enthusiastic, energetic and stress-resistant
What we require
Excellent knowledge of XML / XSD format

Excellent command of Excel / CSV

Knowledge of SQL is an advantage

Knowledge of Microsoft Power Automate is an advantage

Experience with an EDI package is desirable

Experience with JSON is an advantage

Assignment requirements: Academic thinking and working level.
What Experience we ask for
Experience with conversion tools that can be used for data import/export purposes.

Working independently and on a project basis.

Together with the (internal) customer, you are responsible for delivering the correct qualitative data for the EDI interface

Lobster Data is the package that we will use to support different protocols and languages ​​/ formats in our data integration issues. Our own preference is (S) FTP and XML.
We will be rolling out Lobster Data widely across 6 countries for a large number of our customers as well as multiple logistics platforms. https://www.lobster-world.com/en/lobster-data/. A super nice tool, a fantastic challenge.
What We Offer You
We are offering you a challenging position in an international organisation with offices in six European countries. You will work in our head office in Rotterdam-Albrandswaard, in a team of enthusiastic and experienced people.
The projects and activities you will work on will be very diverse. We have more than 50,000 customers, so no one day is the same. We are a flat and ambitious organisation, with short and direct lines of communication.
You will have a lot of opportunities to develop yourself professionally and personally. We offer flexible working hours and a competitive salary, with good secondary conditions. 
For more information and to apply, please contact Jaylene Matser via recruitment-nl@customssupport.com or +31634268975
No (recruitment) agencies