Customs Support expands UK presence with the acquisition of KSI Portlink Ltd.
Image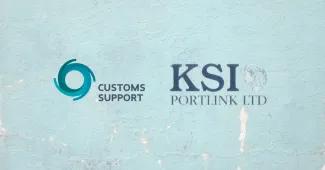 Customs Support, a leading digital partner for customs declarations in Europe, announces the acquisition of KSI Portlink Limited. With this acquisition Customs Support strengthens their local presence in the UK with strategic offices close-by clients in the most important logistics hotspots.
About KSI Portlink
From it's incorporation in 2008, KSI Portlink is well-placed to fulfil customs formalities for corporate clients such as importers, exporters and hauliers. Strategically located close to the Dover Cargo port, the company has specialised in goods carried by road and deep sea. With a dedicated team of customs brokers with many years of industry experience the team of KSI Portlink understands the impact of time upon the profitability of transactions and performs its services as quickly and efficiently as possible. With the ability to support and service clients 24/7 across the UK, KSI Portlink has become the one of the premier partners for customs declaration services. Both directors, Karen Strang and Ian Westgarth are fully committed to serve their clients in the best way possible in terms of quality, speed of service and 24/7 availability.
"We are very excited in joining Customs Support as we can provide clients a broader portfolio, and good access to the European market. We are convinced this will be highly beneficial for our clients as both Customs Support and KSI Portlink highlight the importance of digitalisation and offering high quality of services to clients.
- Karen Strang, Director of KSI Portlink.
"By expanding our presence in the United Kingdom with the team of Karen and Ian joining the Customs Support family we are further expanding our services in logistical hotspots in United Kingdom. The team of KSI Portlink is known for excellent service to clients and brings in broad customs knowledge and expertise in customs clearance services. In our ambition to be in close proximity with our clients, we can offer clients a broad and complete range of customs services in 9 locations in United Kingdom. Global customs knowledge, local presence!"
- Frank Weermeijer, CEO of Customs Support Group
About Customs Support Group:
Headquartered in the Netherlands, Customs Support Group is Europe's leading independent, digital and neutral provider of customs services employing >1,100 dedicated customs professionals serving over 12,000 customers annually. Through our extensive service offering and digital capability, we consistently support our customers in maximising regulatory compliance, achieving operational efficiencies, import duty optimisation, duty planning, and ongoing development for a constantly shifting customs landscape.
In addition to traditional brokerage and digital services, Customs Support Group offers customs consulting and gas measurement services. The company is currently active in the Netherlands, Belgium, Germany, France, United Kingdom, Poland, Italy, Ireland, Finland, Sweden and Switzerland.
In Europe, Customs Support Group serves many cross-border clients in several industries such as automotive, food and beverage, and many more. Customs Support is a frontrunner in digital customs and invests substantially in the digitalisation of the customs process.
For more information, please visit https://www.customssupport.com/
About Castik Capital:
Castik Capital S.à r.l. ("Castik Capital") manages investments in private equity. Castik Capital is a European Private Equity firm, acquiring significant ownership positions in European private and public companies, where long-term value can be generated through active partnerships with management teams.
Founded in 2014, Castik Capital is based in Luxembourg and focuses on identifying and developing investment opportunities across Europe. Investments are made by the Luxembourg-based fund, EPIC II SLP. The advisor to Castik Capital S.à r.l. is Castik Capital Partners GmbH, based in Munich.
If you are the owner of a customs brokerage, gas measurement or other related services business and would like to know more about the possibilities of your business joining Customs Support, please contact Sebastian Ootjers – Director M&A and Corporate Development at sebastian.ootjers@customssupport.com.
If you have any questions, please refer to our Marketing & Communications department at marketing@customssupport.com.