Customs Support expands presence in Germany and Poland with the acquisition of Porath
Image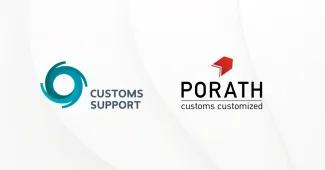 Customs Support, the leading and digital customs broker in Europe, announces the acquisition of Porath Customs Agents. This acquisition strengthens Customs Support presence in Germany and Poland to make customs easy for global trade in- and outside Europe. 
About Porath Customs Agents:
Porath Customs Agents GmbH is a family run business that has been participating in the market for over 30 years. Started as a forwarding company, the focus shifted to its core strength, specialised business in customs clearance. With a dedicated team, strategically located in Germany and Poland, the company is known for their top performance and for meeting high expectations from clients. Their experience and focus on digitalisation provide clients a tailor-made solution to any customs matter. The wide range of services provided like import and export clearance, transit and customs consulting are designed to meet specific needs. The team of Porath provides quick and precise customs consultation, professional handling and comprehensive customs management and excellent service to clients. Porath is AEO certified and member of VHSp and Hafen Hamburg. 
"Offering Europe-wide, digital customs solutions from a single point of contact for our customers is an idea that has linked Porath and Customs Support for a long time. I am very pleased that Porath, as a customer-centric customs specialist, and Customs Support, as a leading digital customs broker, are now going on a joint path." 
- Thorsten Porath, Managing Director of Porath Customs Agents. 

"From the first conversations with Porath, it complied well. With their focus on digitalisation and knowledge of the customs profession, Porath's team fits perfectly with Customs Support's ambition: Making customs easy for global trade" 
- Frank Weermeijer, CEO of Customs Support Group 
About Customs Support Group:
Headquartered in the Netherlands, Customs Support Group is Europe's leading independent, digital and neutral provider of customs services employing >1,500 dedicated customs professionals serving over 15,000 customers annually. Through our extensive service offering and digital capability, we consistently support our customers in maximising regulatory compliance, achieving operational efficiencies, import duty optimisation, duty planning, and ongoing development for a constantly shifting customs landscape. 
In addition to traditional brokerage and digital services, Customs Support Group offers customs consulting and gas measurement services. The company is currently active in the Netherlands, Belgium, Germany, Poland, France, United Kingdom, Ireland, Italy, Finland, Sweden, Norway, Switzerland and Spain. 
In Europe, Customs Support Group serves many cross-border clients in several industries such as automotive, food and beverage, and many more. Customs Support is the number one in digital customs and invests substantially in the digitalisation of the customs process. 
About Castik Capital: 
Castik Capital S.à r.l. ("Castik Capital") manages investments in private equity. Castik Capital is a European Private Equity firm, acquiring significant ownership positions in European private and public companies, where long-term value can be generated through active partnerships with management teams. 
Founded in 2014, Castik Capital is based in Luxembourg and focuses on identifying and developing investment opportunities across Europe. Investments are made by the Luxembourg-based fund, EPIC II SLP. The advisor to Castik Capital S.à r.l. is Castik Capital Partners GmbH, based in Munich. 
If you are the owner of a customs brokerage, gas measurement or other related services business and would like to know more about the possibilities of your business joining Customs Support, please contact Sebastian Ootjers – Director M&A and Corporate Development at sebastian.ootjers@customssupport.com. 
If you have any questions, please refer to our Marketing & Communications department at marketing@customssupport.com.