Customs Support expands European footprint with acquisition Sernav Italy
Image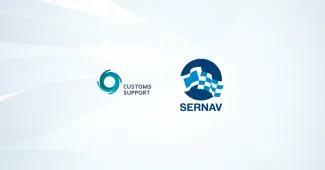 ROTTERDAM, Netherlands, and LA SPEZIA, Italy - Customs Support, the neutral and dynamic partner for customs matters in Europe, announces the acquisition of SER.NAV s.r.l ("Sernav") and its expansion to Italy. This acquisition strengthens Customs Support's presence and underpins the ambition to become a truly European partner for its clients.
Sernav is one of the leading Italian customs brokers and provides assistance in customs operations, customs brokerage and shipping agents operations to hundreds of clients. Over its more than 30 years of history, Sernav has built its presence in 17 strategic locations (1*) across the country, reaching most of the leading trade ports and logistics hubs in Italy.
With its more than 170 employees, Sernav is known for its superb quality of service, deep understanding of Italian customs matters, long-lasting relationships with its clients and technological innovation.
"In our ambition to be the leading neutral and dynamic customs broker across Europe, we are very excited about this addition and welcome the Italian team to our Customs Support family. We strongly believe that the expansion to Italy will be mutually beneficial to Sernav's and Customs Support's large customer base. Furthermore, I am honoured that the founders of Sernav, Mr Biffignandi, Mr Stanzione, and Mr Pisano will also join Customs Support adding more than 130 years of combined customs experience."
Frank Weermeijer – CEO Customs Support Group.
The three shareholders, Mr Biffignandi, Mr Stanzione and Mr Pisano, jointly mentioned that
"We are excited to become part of Customs Support. Both companies have a shared culture of focusing on seamless, high-quality service and providing the best solutions to our clients. There is clearly a great fit for our customers and the people working at Sernav. We strongly believe that Sernav and its customers will benefit from the European network of Customs Support and combined efforts to advance technological innovation in the customs sector."
Customs Support has a strong reputation and stands for knowledge, speed, efficiency and digital customs solutions. With hundreds of customs specialists, a broad geographical coverage through many offices at logistic hotspots, Customs Support helps a wide range of clients with their European customs matters, including consultancy and gas measurement services.
The company is already active in six countries, including The Netherlands, Belgium, Germany, France, United Kingdom and Poland. Customs Support grew rapidly in the countries mentioned.
In Europe, Customs Support Group serves many cross-border clients in several industries such as automotive, food and beverage and many more. It is not just a pure-play customs brokerage but has invested heavily in the digitalisation of the customs process for its clients implementing tools like electronic data interfaces and AI-based optical character recognition.
About Customs Support:
Customs Support is the neutral and dynamic partner for customs matters in Europe. A fast-growing company that stands for knowledge, speed and efficiency and digital customs solutions. Every day, hundreds of customs specialists and many Brexit experts are ready to take care of customs matters for many companies. With many offices at logistic hotspots throughout Europe, the company can offer customers broad geographical coverage. For more information, please visit https://www.customssupport.co.uk/
About Castik Capital:
Castik Capital S.à r.l. ("Castik Capital") manages investments in private equity. Castik Capital is a European Private Equity firm, acquiring significant ownership positions in European private and public companies, where long-term value can be generated through active partnerships with management teams.
Founded in 2014, Castik Capital is based in Luxembourg and focuses on identifying and developing investment opportunities across Europe. Investments are made by the Luxembourg-based fund, EPIC II SLP. The advisor to Castik Capital S.à r.l. is Castik Capital Partners GmbH, based in Munich.
If you are the owner of a business in the customs industry and are interested to learn more about the benefits of joining Customs Support, either in the near future or at a later time, please reach out to Sebastian Ootjers, Director M&A and Corporate Development, at Sebastian.ootjers@customssupport.com for further information.
If you have any questions, please refer to our Communication department at marketing@customssupport.com
1* Includes direct presence and correspondents