Customs Support Acquires Errek
50 Years of Excellence in International Customs
Image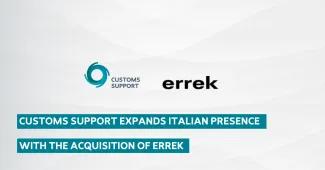 Customs Support, the leading provider of integrated customs services and digital customs solutions, has acquired Errek Trento S.r.l. CAD and Errek Logistica Srl – together they form Errek. Founded in 1969, Errek established itself in the international shipping market as a company of reference capable to meet every request in the customs sector with professionalism and quality.
About Errek
Errek has been focusing its operations on excellence since 1969, constantly expanding and improving its wide range of services across North-Eastern Italy as a trusted Customs partner and proxy for Intrastat declarations. For 50 years Errek has been focusing its operations on customers excellence, improving its wide range of services and constantly expanding, resulting in offices in 3 locations in Trento, Bolzano and Vicenza. In 2004, Errek S.r.l. CAD was founded in response to the diverse needs of businesses in the Trentino Alto Adige region.
Clients value Errek for their customs services like import and export documentation, Intrastat declarations, and their solid customs advice and consulting services. Clients vary from fashion, food, fruits and vegetables to automotive and chemicals. Errek is AEO F certified and is awarded with the top qualification "High Reliability", received after post-audits carried out by the Customs Agency.
We are thrilled about this acquisition which reinforces our commitment to delivering superior service and support across multiple markets and countries. We look forward to continuing our growth while providing our customers with seamless access to global trade opportunities.
Errek is known and appreciated for the level of services it offers and for the attention paid to each customer's needs. We are excited to have them on board as we continue to expand our reach and offer comprehensive solutions to businesses worldwide.
The acquisition enables Customs Support to provide more comprehensive solutions for their clients, allowing them access to an even larger network of global resources with local knowledge, while ensuring efficiency and reliability through their cutting-edge technology platform. With this new addition, clients can expect the best-in-class user experience by streamlining processes such as authorization for special procedures, the correct identification of the origin of products, tariff classification, filing entry documents, tracking shipments and obtaining refunds from customs authorities quickly and easily. 
About Customs Support Group:
Headquartered in the Netherlands, Customs Support Group is Europe's leading independent, digital and neutral provider of customs services employing >1,700 dedicated customs professionals serving over 30,000 customers annually. Through our extensive service offering and digital capability, we consistently support our customers in maximising regulatory compliance, achieving operational efficiencies, import duty optimisation, duty planning, and ongoing development for a constantly shifting customs landscape.
In addition to traditional brokerage and digital services, Customs Support Group offers customs consulting and gas measurement services. The company is currently active in the Netherlands, Belgium, Germany, France, United Kingdom, Poland, Italy, Ireland, Finland, Sweden, Switzerland and Spain.
In Europe, Customs Support Group serves many cross-border clients in several industries such as automotive, food and beverage, and many more. Customs Support is the number one in digital customs and invests substantially in the digitalisation of the customs process.
For more information, please visit our website.
About Castik Capital:
Castik Capital S.à r.l. ("Castik Capital") manages investments in private equity. Castik Capital is a European Private Equity firm, acquiring significant ownership positions in European private and public companies, where long-term value can be generated through active partnerships with management teams.
Founded in 2014, Castik Capital is based in Luxembourg and focuses on identifying and developing investment opportunities across Europe. Investments are made by the Luxembourg-based fund, EPIC II SLP. The advisor to Castik Capital S.à r.l. is Castik Capital Partners GmbH, based in Munich.
If you are the owner of a customs brokerage, gas measurement or other related services business and would like to know more about the possibilities of your business joining Customs Support, please contact Sebastian Ootjers – Director M&A and Corporate Development at sebastian.ootjers@customssupport.com.
If you have any questions, please refer to our Marketing & Communications department at marketing@customssupport.com