Customs consultancy in Sweden
How our growing team of retail, plant, and classification specialists can help you
Image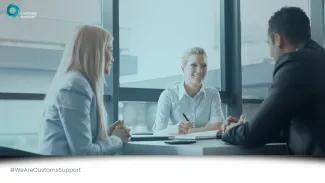 Home to the largest port in Scandinavia, Sweden is key for trade in northern Europe. Head of Trade & Customs Consulting Sweden Peter Klintberg discusses customs consultancy in Sweden in this article.
What are the main activities of the customs consultancy team in Sweden?
We help businesses a lot with classification here in the Swedish office, both as ongoing operational customs consultants and as interim strategic customs partners.
One of our largest customers is a gardening retailer, who trades plants, tools, and garden furniture. The plant classification can be very straightforward as they have a tariff code for every Latin (scientific) name. This taxonomy was actually developed in Sweden.
Where it gets difficult is when you need to classify bouquets of flowers and plants. The main plant of the bundle, how they were grown, the number of stems, or even the inclusion of a single stem of a particular species can all affect which commodity code you need to use.
Depending on where the plants are destined for and what you are doing with them [planting or potting], there are also import permits to consider.
Alongside the plants themselves, there are the tools and furniture which are also classified on slight differences.
The tariff codes and regulations can also vary between the EU and neighbouring non-EU countries in Scandinavia (Norway and Iceland), so it's no surprise that we work with hundreds of classifications a month for this one customer.
Tell us about an interim project the team is involved with at the moment
We have two of our consultants out on a long-term contract with a retailer who ships furniture and other household items all over the world.
To give you an idea of the scale of this project, this customer imports parts from multiple regions, assembles them in different countries, and exports them worldwide. Our customs consultants need to find out the classification codes of all of these products for each importing country, the tax rates, the rules of preferential origin, and whether any changes could deliver a better solution for the client.
It is not a small task and things can change quickly, so it takes experienced strategic customs consultants to do this job well.
What's the next stage of development for the customs consultancy team in Sweden?
We are still a reasonably small team here in Sweden, even though we just expanded and have the support of our other customs consultancy teams across the EU and UK.
There is a lot of experience here and opportunity to grow the expertise of others who join us, so what I am working towards is building the team. In time, I'd like the quantity of our resources to match our high quality of service so that we can provide it to even more businesses who need it.
Need customs consultancy in Sweden?
Customs Support has over 1500 declarants in 12 countries, supported by customs consultants in Sweden and throughout the rest of Europe. Contact one of our experts today.