Customs Consultancy in Finland
How you can use our strategic customs experts in your business
Image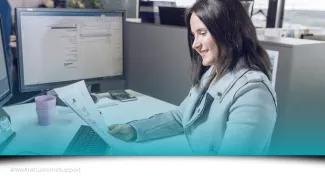 Goods classification, licensing, representation, AEO and more. In this article, Director of Customs Clearance Finland Esko Holopainen discusses how we support you with customs consultancy in Finland.
What are the main activities of the customs consultancy team in Finland?
A large amount of what we are currently doing is certification and other licensing for clients in Finland. Getting AEO certification  is becoming more important for supply chains across Europe, so we are working with several customers on this.
There are also high volumes of commodities moving through Finland which require licences, like gas and other energy products, so we work closely with companies to ensure they are compliant with their movements.
Given the nature of these movements, these applications can be huge, especially when we are making the application in our name on behalf of the applicant. This is something we can do when customers do not have a legal entity in Finland. The licences still apply for their goods only, not everything that we are involved with, but we take some ownership of the licencing with the customs authorities.
Of course, with every new piece of trade comes the classification of these goods as well. Without going through the goods classification  process, we are unable to be sure that the licences needed are correct.
What else do you do?
Our team of customs consultants in Finland is growing, and we have also expanded our services using the processes and experience of the other experts within the group. We are doing more quick scans  with new customers now, where we do an internal audit to see where their opportunities and risks are.
We are also performing more AEO audits with existing and new clients. Getting AEO certification is a long process, and clients need to remain compliant to ensure that they keep it. By getting an AEO audit with us, we can help them to identify issues before they become a problem, or give them the peace of mind that everything is running as it should be.
Something else which we are talking about, both within the group and with our external clients, is how we can prepare for EU centralised clearances. Although these are not going to finish testing until next year, these changes can move quickly and yet customs formalities can take a long time to get in place. We are looking to predetermine things so that we can help our customers as much as possible when the time comes.
Do you need customs consultancy in Finland?
The Customs Support Group has a team of customs consultants in Finland, supported by other consultancy experts across the EU and UK. Our teams are physically located in 12 countries, with over 100 offices and 1500 declarants supporting businesses like yours with their supply chain compliance. Contact us for more information on how we can help you today.