A Client Review: Koornstra & Co
Managing Customs Declarations for Garlic & Onions
Image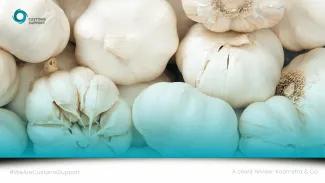 What are the unique challenges of working in perishable goods when thinking about Customs? We spoke to Koornstra & Co to find out:
What does Koornstra & Co do?
Koornstra is an importer and exporter of fruit and vegetables. We deliver the goods where they are needed at the right time within our market area, according to JIT – Just-in-time method.That is where our strength lies because we can easily respond to customer requirements.
What are you responsible for at Koornstra & Co?
I am the controller; I prepare monthly and annual figures for part of the operating company. I am also responsible for all kinds of other challenges that arise in the financial field.
Are you also responsible for liaising with Customs Support?
Well, predominantly Customs Support works with us on the customs clearance of garlic imported from China. I deal with the garlic imports to account for this properly administratively in our system. This is a bit more laborious than a standard purchase and sales order. That's one of the challenges I was just talking about.
Did you know, when importing goods, you or your customer may need a Certificate of Origin to import goods into a country outside the European Union? The producer or exporter of the goods usually makes the certificate of origin, which is then authorized by the Chamber of Commerce of the country where the goods were produced or obtained.
Do you know how Koornstra chose Customs Support as their clearance service provider?
We were already customers of Comex (now Customs Support Kapelle) that became part of Customs Support. That was actually before I joined here. We got in touch with Comex via Denimpex from Amsterdam. That is also a customer of Customs Support and because we handle the import of garlic together with Denimpex, we ended up at Comex.
So, how have you found working with Customs Support?
Previously, I was in contact with Ronald de Troije. Unfortunately, he passed away. Now I have a lot of contact with Anemarie van der Jagt with whom we work really well. When I call her or send her an e-mail, I usually have an answer within a few hours, so I like that.
At Customs Support we work with a merger and acquisition strategy to make sure we have experts ready to help you across Europe. Since 1999 we have grown in size, now having over 1500+ customs experts empowering global trade and keeping your goods moving without hassle and delay.
Besides importing garlic, do you often use the services of Customs Support?
Yes, we also import onions from Egypt in the period of May to August. Customs Support also clears that for us.
At Customs Support we are passionate about creating partnerships with our clients, so tell us how is the cooperation going so far?
Well, I must say that we have little contact with Customs Support. We only receive an invoice including customs clearance documents. The whole preliminary process is done for us by Denimpex. Denimpex and Customs Support have a lot of contact with each other. All consignments to be cleared are reported to Customs Support by Denimpex. All we do from Koornstra is receive and pay the invoice from Comex. So there is really no very close cooperation between Koornstra and Customs Support.
We wish to continuously improve our service, what are your recommendations?
It rarely happens that an error is made where the wrong goods are cleared or with an incorrect reference number. Those are incidents. If that's once a year then you've had it. In that respect, I am very positive about that.


Could you benefit from support with your unique clearance challenges? Get in touch today to see how we could help.