Christmas shortages expected in the UK again this year
Image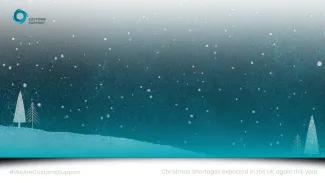 With less than ten weeks remaining until Christmas, retailers around the UK are beginning to display festive goods in store. However, could shelves be emptier than last year with the cost-of-living crisis, ongoing logistics problems, and a clear reduction in shipments from the Far East?
Find out about how your Christmas shop can be affected in this article.
Reduced sailings from China
Inflation and the cost-of-living crisis have left companies and individuals with fewer funds this year, forcing businesses to review how much stock they are purchasing.
Additionally, China's "zero-Covid" policy has meant overnight lockdowns for industrial areas and ports over the last two years, causing shipment delays. Coupled with congestion in Europe in 2021, also caused by lockdowns, many importers did not receive their goods in time for Christmas.
Even though the freight rates are lower this year, they are still much higher than pre-pandemic levels. This, combined with the risk of lost revenue from late goods, reduced profits from clearance sales, or incurring storage until the next festive period, is too much for some businesses right now.
Therefore, many are looking for alternative sources to China. However, costs and availability still limit their options, so there will be less festive items on the shelves because of this.
Strikes in the UK
Major strike action has been taken across the UK logistics sector due to the cost-of-living crisis.
The ports of Felixstowe and Liverpool both went on strike at the same time recently, which devastated UK trade as these ports manage approximately 12,000 TEU (twenty-foot equivalent unit) per day between them. There could be further strike action in future as the Unite Union (who represent most of the port workers) have not yet secured their pay increase targets.
Additionally, rail unions across the UK have been intermittently striking since early summer. Although this is mostly on behalf of passenger rail workers, freight services have also been disrupted due to the lack of safety-critical personnel on shared lines.
The growing uncertainty of getting timely deliveries, if the goods even reach the UK on time, has meant that more importers are looking to European road haulage to avoid sea freight.
HGV driver shortage in Europe
The UK's HGV driver shortage could be close to an end, with the ONS Quarterly Labour Force showing an increase from 271,000 in Q1 '22 to 305,000 in Q2 '22. This means that the UK is now exceeding the pre-pandemic driver level of 301,000.
However, Europe is still short by 10% of the required workforce, according to a report from the International Road Transport Union earlier this year. This equates to approximately 425,000 drivers that are needed to keep road supply chains running efficiently.
Since Brexit began in January 2021, customs clearance is required for all goods vehicles that travel between the UK and the EU. Originally, these clearances were not policed, and road shipments remained unobstructed for hauliers, although the additional admin became a deterrent for many.
When the Goods Vehicle Movement Service came into effect in January 2022, hauliers needed to be more involved. If the export and import clearance are not collected and declared to the GVMS system, then the vehicle will not be able to cross on the ferry. This takes time, especially when the goods require an additional clearance service – like foodstuffs or forestry products.
This added complication of delivering to and from the UK has meant that hauliers are more inclined to turn down UK-related work and fill the gaps across Europe so that their risk is reduced. Those that do deliver to the UK are attracting premium rates, which is a contributor to inflation in the UK.
The difficulty in acquiring goods, in particular foodstuffs, from Europe has meant fewer items in UK stores for some time now. The continued reduction in the European road transport workforce means that this will still be a problem for Christmas 2022, and that road freight cannot fill the gaps that are left by the uncertainty surrounding sea freight.
Looking for help with the UK and European clearances?
Customs Support is a Europe-wide clearance agent, with over 1500+ declarants working in 70 locations across 12 countries. As providers of end-to-end digital customs clearance, we get your declarations processed in a timely and efficient manner, whilst reducing the risk of error and keeping your supply chain compliant.
If you could benefit from a customs partner that covers both ends of your supply chain, then contact us for more information on what we can do for you today.