Brexit: New Rules and Regulations for EU-UK Trade
Image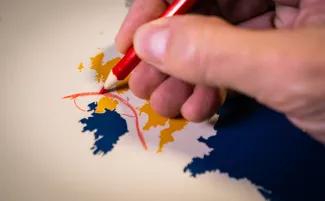 When everybody in the European Union was wishing each other a Happy New Year on December 31st at 12pm it was still 11 pm in the United Kingdom. While they had still an hour to go until January 1st 2021 they had already officially left the European Union. Brexit was finally a fact.
The Trade and Cooperation Agreement, as it is officially called, had already been approved by the House of Commons and the House of Lords, and finally, Queen Elizabeth II gave Royal Assent on December 31st.
New Rules and Regulations
Now that the United Kingdom is no longer a part of the European Union it has become a third country. This means that goods can no longer move freely from one side of the North Sea to the other. If you want to export goods from the EU to the UK or vice versa you now for example need an EORI number and MRN number, and you also need export and import documents.
Companies that have prepared for Brexit have all this in place and can move their goods without a problem. Right after midnight the first few hundred trucks already moved through the tunnel at Calais without a problem. Trucks coming from the United Kingdom have to send a pre-notification to the French Customs Authority. While they are crossing the Channel, the Customs Authority determines whether the truck can continue its journey straight away, or if additional checks are necessary. This is determined based on what type of goods are in the truck and on a risk analysis that is run by the Customs Authority.
Impact on Business
The new rules and regulations have a big impact on some companies, especially for companies for whom customs documents and border checks are new.
Before Brexit the process was simple. Goods were shipped accompanied only by a CMR. This is no longer possible. Exporting companies need to create an export document and the importing company needs to create an import document. The information that needs to be in these documents is much more detailed than the information that used to go on CMRs. Both parties need to exchange a lot more information to make sure everything is in order.
It takes additional time and effort to create all these documents and to make sure the right data is communicated to customers and/or suppliers. This additional workload means additional costs and maybe additional manpower
Customs Support | Empowering Global Trade
If you have any questions on exporting or importing to or from the United Kingdom or the European Union, or you need support, please contact one of our experts.