Beware! Transit Document Process in France Now Manual
Image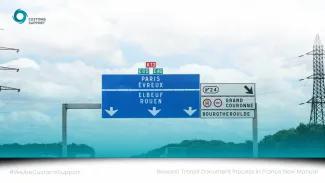 The French Customs Authority has made changes to the transit document process in Calais. Some software companies made digital connections to the French customs systems, automatically entering data into the system. The French Customs Authority doesn't allow this for fear of conflicts of interest. 
From Automated to Manual 
The new procedure instated by the French Customs Authority unfortunately no longer allows digital processing of T documents. The Customs Authority launched a new system called Delta T in which all T documents need to be created manually. The processing of T documents by customs agents is now also manual and is done by stamping documents. 
 
Trucks reporting to the customs authority in Calais with T documents now have to use the orange track instead of the green track. This could slow down the logistic process and results in extra waiting hours at the port of Calais. 
Send Your Request Before 10 am 
Customers that want to be sure that they have their T documents ready in time are advised to make sure that we have your orders for processing  T document and all the relevant information before 10 am, so we can enter it in the Delta T system and get your T document stamped that same day. 
Need support with transit management? Customs Support can assist you with our customs transit services.