Acquisition of Vandevyver BVBA Increases Service & Presence in Belgium
Image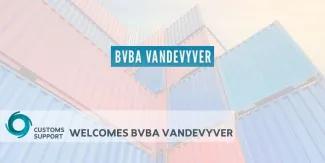 At Customs Support we aim to serve the customer in the best possible way, everywhere. In January 2020, the Vandevyver BVBA joined Customs Support Group.
VANDEVYVER BVBA
Vandevyver, the bridge between your company and customs authorities, was established in 1944 by Lucien Vandevyver. In 1969 son Carlo Vandevyver followed in the footsteps of his father. Nowadays, Vandevyver has been passed on to three generations.
Customs knowledge
The knowledge of these three generations has brought the company where they currently stand; a young and dynamic company that offers fixed value to customers in the field of customs-related activities.
Logistics area
Thanks to the location of Vandevyver, which is located in the Ghent port zone, they are easily accessible for both road transport and inland shipping. Vandevyver has been certified as an Authorized Economic Operator (AEO) since November 2009.
With this acquisition, Customs Support dominates a large part of Belgium and we can serve our customers from various locations in Belgium. The Vandevyver portfolio is closely aligned with the portfolio of services of Customs Support Group and with this addition the customers will certainly benefit.
We welcome all new colleagues and look forward to providing the best service and services to our customers together.