Interim Customs Resources
Did you know, our experienced customs specialists are available for interim, and long-term support and can even be embedded into your in-house team? Helping you keep your operations running smoothly by offering:
Expert knowledge backed by over 40 years of practical customs experience
Hands-on support in executing your customs clearances
Commitment to the highest quality and compliance standards
Contact us today and one of our customs consultants will be in touch.

Senior Customs Consultant
Interim guidance by our customs experts
As you know, the customs industry is facing unprecedented demand, which in turn is causing a strain on customs workforces. For many, this means that customs departments are temporarily understaffed or overworked. We guarantee the continuity of your customs department, giving you the time to look for a long-term solution, with the knowledge that your customs operations are covered. Our Interim Customs Resources include:
Our consultants can be placed into your team to cover key customs roles. We know how to apply our knowledge to a range of roles, industries, countries, and challenges.
Not only are our consultants experienced, but they also have in-depth market knowledge of licences, permits, and processes within customs markets.
Through training or interim placement of our consultants within your team, we can help you scale your existing team, and ensure you are ready for the future.
Sometimes growth happens when you least expect it. When the pressure hits, we are there to see you through it – without adding pressure to your existing team.
Placing our staff members in your team helps your existing teams learn from our hands-on experts in customs. We can provide training and information along the way.
We offer supply chain optimisation by work instructions and SOP's, train people and help in setting up your customs department.
Discover Customs Support Interim Guidance
You Are Not Alone
Don't wait for your goods to get blocked at the port or for a client to refuse to deal with you due to hiccups in your supply chain, simply because you are short in time, knowledge, and capacity within your current staff. Our professionals can be the key to success. With their experience and knowledge, short-term issues can be resolved, and continuity can be guaranteed without putting an extra workload on the current staff.
Also, with an aerial view, our customs professionals can assess risks and points for improvement. You can liaise with our professionals in order to gain more expertise and get an improved customs support base within your own organization.
Image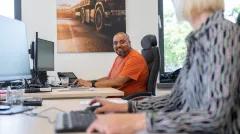 Interim Customs Resources | Frequently Asked Questions (FAQs)
When does it make sense to get supported by Interim Customs Resources?
More often than not, there is little or no experience in customs requirements within a company. And even when in-house experience exists, the highly competitive job market increases the risk of customs staff turnover, this can leave you with a shortfall. If you recognise these challenges, or if you are dealing with customs for the first time, our team is here to help and can even be embedded into your in-house team to cover interim needs or offer training.
Which customs roles can be covered via the Interim Customs Resources?
We can cover a variety of roles, from standardised roles such as: Operational Support (Declarant Plus), Team Leader, Customs Manager, and Senior Consultant. To tailored roles specific to your organisation. Get in touch to discuss how we can help you to achieve your goals. 
What are your advantages of interim customs management support?  
Customs knowledge available on short-term in-house 
Time-saving by single sourcing your support needs at Customs Support 
Daily processes are not being disrupted; employees do not get extra workload but get support 
Stakeholders are more effective by being backed up in-house with knowledge and expertise 
Extra layer of customs expertise without investing upfront in sourcing and training employees 
Contact us if you want to know more!