Digital Customs Connections
Here at Customs Support we invest in IT solutions and innovations to help clients achieve their digitalisation goals and improve speed, reliability, and cost savings. We offer:
Timely and accurate customs services through digital innovation
Efficiency by the digitalisation of the customs process
Experts to support you in your customs digitalisation journey

Senior Customs Consultant
Our Digital Customs Solutions
Businesses today can process a variety of message types or protocols, make calculations, and add a pre-defined logic to a dataset, with required security measures in place. This should also apply to your customs processes. Our digital customs consultants are the 'bridge' between your customs and logistics operations and IT departments. They translate the needs and requirements from the warehouse to the IT-Helpdesk, propose end-to-end customs software solutions, and provide additional possibilities to drive efficiencies such as reporting and dashboard insights. We believe in a stronger, faster, and more efficient logistical chain by using all available customs technologies. 
Image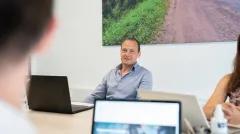 We ensure that a multiplicity of datasets can be processed by computers in seconds, surpassing human capability.

We provide create EDI connections suitable for two way communications, allowing multiple parties to send and receive data in the blink of an eye
By digitising administrative tasks with us, your business can thrive without the inconveniences that can result from human error.
Your employees can focus fully on what they do best, and your business thrives while using proven automated processes.
We support you to reduce the time it takes to processing data, in turn creating clear and measurable business efficiencies; such as cost reductions or revenue generating options.
Though digital solutions, you can avoid fines, or costly delays through a simple reduction of errors.
Digital customs | Frequently Asked Questions (FAQs)
How can Customs Support help my company go digital with customs?
Entering the digital world of customs handling, we consult and support you operationally in setting up a digital interfacing with customs software to have a transparent and efficient customs operation. First we perform a quick scan, based on the results, together we will guide you through the implementation process and define the ideal situation.
Customs Support offers several ways to start working digitally and exchange data with us. Our solutions can deal with all the normal interface protocols available in the market and we communicate in all common languages likes, JSON, XML and CSV. We take your data as the input and convert it to what we need, making things as easy as possible for you.
What are the benefits of operating with digital customs?
Digital connectivity reduces tremendously your manual effort for entering data, prevents errors and provides full visibility on the status of your customs data. We save time and money for our clients and for ourselves, enabling all stakeholders to spend more time on activities that actually add value. Digitising customs processes also enables us to give our clients better insights in the flow of their goods and the status of their shipments.